Animated black icons. Dollar bill showing percent of expenses that went to our mission; Country map showing how many employees work in the U.S.; Globe showing how many international employees; and paper with pencil depicting number of protocols.
This year, the Henry M. Jackson Foundation for the Advancement of Military Medicine celebrated its 36th year carrying out our mission of advancing military medicine for our nation's warfighters, their families and civilians alike. With our partners around the globe, our nonprofit organization accelerates progress in myriad medical areas needing scientific focus. Our primary goal is to help our warfighters become more agile and resilient throughout their respective careers and beyond. This focus extends not only to the families and loved ones of these warfighters, but naturally promotes benefits for civilian health in general.  
Our scientific, administrative and program management expertise empowers investigators and clinicians with the resources they need to find answers and drive change. We do this by serving as the connective tissue between the military medical community, its federal and private partners as well as millions of American service members, veterans and civilians.  
The U.S. Congress authorized the creation of the Foundation for the Advancement of Military Medicine in 1983 to support research and education at the Uniformed Services University and throughout the military. After Washington Senator Henry M. Jackson's death a short time later, our organization was named in his honor, as he was influential in championing our legislation. 
Today, thanks to our mission and our workforce, we operate at the intersection of medicine and science and uniquely positioned to not only advance military medicine, but bring those advancements forward to the public so that others may benefit. 
As we race towards another year, we keep our foot on the accelerator, never easing up, because we understand the importance of the HJF mission.
Employee Profiles
Meet Teik-Chye Chan

A Research Associate on infectious diseases with HJF for 25 years.

Meet Sonja Davis

Senior Proposal Specialist with HJF for 6 years.

Meet Luca Illinik

A Program Regulatory Affairs Specialist with us for 5 years.

Meet Elisha Nixon

A Quality Improvement Manager with us for 2 years and 8 months.

Meet Anthoia Osuji

A Research Nurse/Community Engagement Officer with us for 3 years.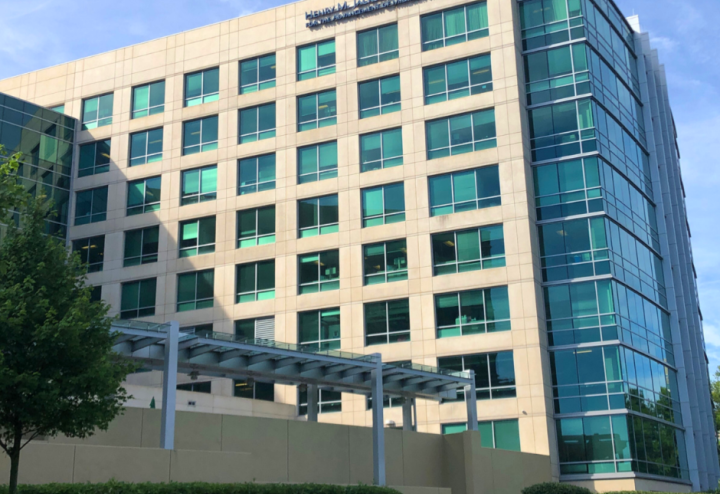 Working...at a Great Place
This year, the Washington Business Journal (WBJ) named HJF one of the Best Places to Work in Greater Washington. The results, which divided organizations by size, showed HJF as a top place to work in the extra large category.
In its 13th annual survey, WBJ ranked HJF among the 100 Greater Washington companies that scored highest among hundreds of employers that participated in Quantum Workplace's annual employee engagement survey. HJF employees attested to HJF's mission as well as the 403b match that is 100 percent vested immediately, the flexible work schedules and teleworking as being part of what makes the organization so special. 
HJF recognizes that its employees are the heart of the organization. The consistent application of HJF's core values--Honesty & Integrity and Dignity & Respect--help employees stay motivated, happy and productive.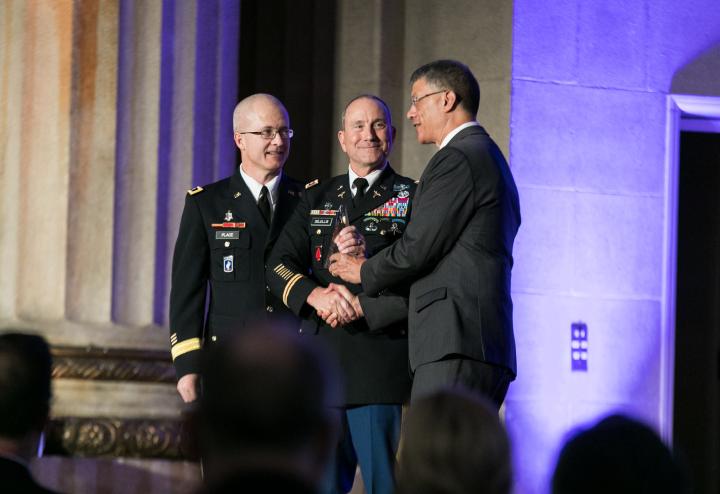 Honoring Our Heroes
Each year, HJF honors individuals who have made outstanding contributions in advancing medicine for our nation's warfighters, veterans and civilians at the Heroes of Military Medicine dinner.
In May, top researchers and practitioners came together to celebrate professionals from the Army, Navy and Air Force as well as civilians who have distinguished themselves through excellence and selfless dedication to enhancing the lives and health of our wounded, ill and injured service members, veterans and civilians. The Office of the Surgeon General for each service nominates active duty military medical candidates for Hero of Military Medicine Awards. Additionally, individual awards were presented for the Hero of Military Medicine Ambassador and Civilian Awards.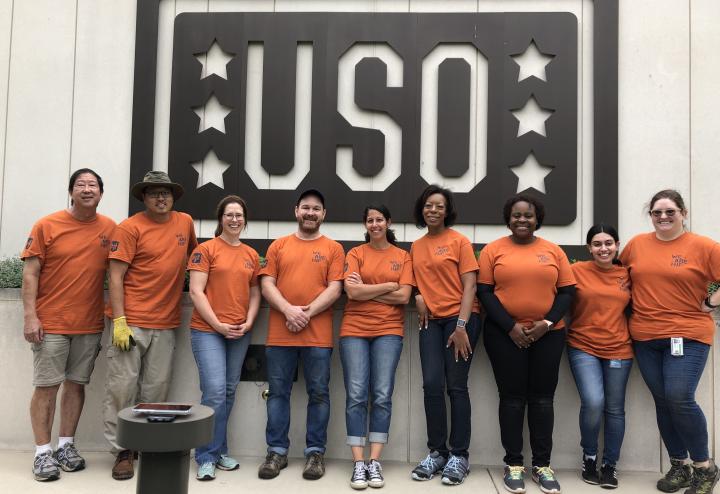 Giving Back to Our Community
This year, HJF began its corporate social responsibility (CSR) program--allowing paid time for our teammates to give back to the community. HJF is committed to investing in community stewardship as well as developing employee fulfillment through this program. The volunteers get the chance to give back and contribute to organizations in the community that also support our troops. 
So far, HJF teammates have donated more than 500 hours to efforts such as meal preparation with the Fisher House Foundation and the beautification of healing gardens at the USO on the campus of Walter Reed National Military Medical Center.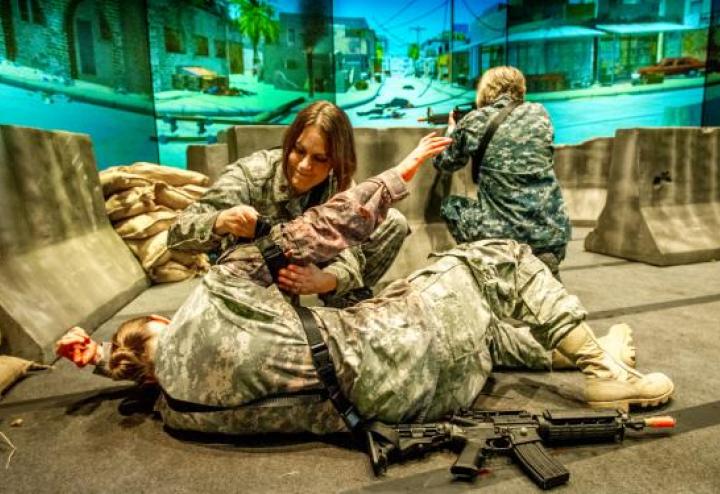 Training for Medical Situations
The Val G. Hemming Simulation Center, part of the Uniformed Services University, celebrated its 20th anniversary of training and testing military physicians, nurses and medical students in various medical situations. The center, which was started using only standardized patients, is the largest virtual reality theater for healthcare simulation in the world.
The success of its first simulation event laid the groundwork for the subsequent growth to the National Capital Area medical simulation center which opened in 2000. Today, the 30,000-square-foot multi-model simulation center continues to be at the forefront in state-of-the-art medical training, offering night operations for students learning Advanced Combat Medical skills, high-fidelity mannequins, wearable task trainers and advanced moulage techniques.
Partnering on Breast Cancer Awareness
As part of National Breast Cancer Awareness in October, HJF joined Leonardo DRS, a leading technology company, at the Association of the United States Army (AUSA) conference to raise funds to support breast cancer research. 
During the Washington, D.C., conference, the company's booth "went pink," and they invited conference attendees to write names of those who have battled with breast cancer on on pink cards. The cards were then posted on the booth wall, in honor of each individual. Additionally, Leonardo DRS donated $10,000 to support breast cancer research and fund the Look Good, Feel Better program for those receiving breast cancer treatment in Bethesda. The program provides in-person, hands-on beauty techniques to women undergoing cancer treatment.