July 17, 2019
The Henry M. Jackson Foundation for the Advancement of Military Medicine, Inc. (HJF) recently started a new Corporate Social Responsibility (CSR) program. The program seeks to provide HJF teammates with opportunities to give back to warfighters, their families and supporters. In the first year of the program, HJF teammates will be able to volunteer for a full day with pay at one of two organizations. The two organizations eligible are the USO and the Fisher House.
The USO provides centers at or near military installations across the United States to provide for the needs of our men and women in uniform. According to the USO website, "The USO strengthens America's military service members by keeping them connected to family, home and country, throughout their service to the nation." HJF teammates are eligible to volunteer individually, or at an HJF-sponsored event at a USO center.
The Fisher House Foundation builds comfort homes on and near military and Veterans Affairs medical centers around the world. Families and veterans can stay free of charge while a loved one is receiving treatment. According to the Fisher House Foundation website, these houses have saved families an estimated $451 million dollars in out of pocket costs since their founding. HJF teammates are eligible to serve at a number of HJF-sponsored events at Fisher House locations around the United States.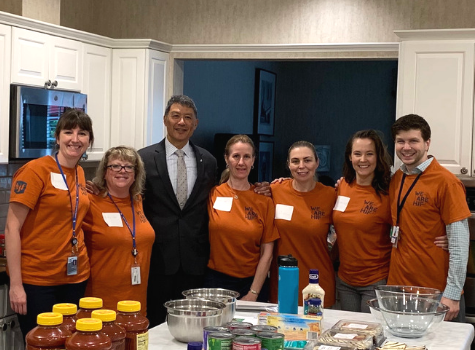 All hours will be paid for by HJF and all employees who participate will receive up to 8 full hours of pay for their time.
"Our teammates are dedicated to improving the lives of America's warfighters and are committed to serving those who serve," said HJF President and CEO Dr. Joseph Caravalho. "This new program provides another opportunity for our team to give back."
The first program was an event at the Fisher House located in Bethesda, Maryland. HJF teammates prepared and served a meal while also making prepared meals that could be easily reheated by residents as needed. Among the attendees at the first event was HJF's digital communications manager, Marissa Smith.
"I enjoyed the opportunity at Fisher House because I could connect with my HJF teammates while giving back to service members who have sacrificed so much for us," said Smith.
More than a dozen CSR events have been scheduled for HJF teammates around the United States. HJF hopes to expand the CSR program to even more organizations and events in the next fiscal year.
About HJF: The Henry M. Jackson Foundation for the Advancement of Military Medicine, Inc. (HJF) is a global nonprofit organization with the mission to advance military medicine. HJF's scientific, administrative and program operations services empower investigators, clinicians, and medical researchers around the world to make discoveries in all areas of medicine. With more than 35 years of experience, HJF serves as a trusted and responsive link between the military medical community, federal and private partners, and the millions of warfighters, veterans, and civilians who benefit from military medicine. For more information, visit hjf.org.