May 12, 2019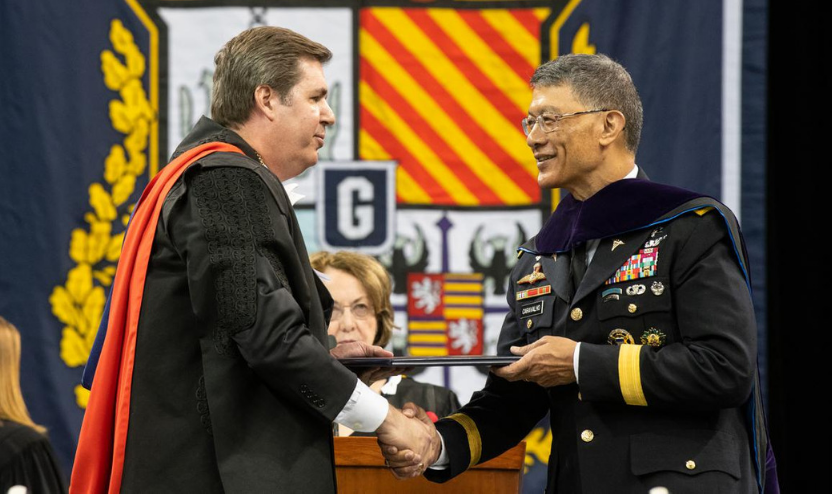 When Joseph Caravalho took the stage at his own college graduation in 1979, he had no idea that 40 years later, he would be the keynote speaker addressing a new generation of fresh-faced Gonzaga students.
Since graduating, the now-retired Maj. Gen. Caravalho became a doctor, a staff surgeon at the Pentagon, spent 38 years in the military, became the president of a nonprofit, married, had two children and a granddaughter.
"I have led an amazing life," he said. "In a blink of an eye, a similar story could be yours."
Caravalho, speaking to a crowd of more than 1,200 students waiting for their diplomas, told his story of becoming the first in his family to go to college, and asked the new graduates to think about the legacy they will create.
Born in Hawaii to a policeman and a cook, Caravalho said he worked at a Dole pineapple cannery before going to college. He said joining ROTC was the only way he could afford an education, and eventually he became the class speaker at his own graduation.
He said that since graduating, the connection and values he gained from going to Gonzaga have followed him throughout his career. He encouraged the students receiving their degrees to continue leading and learning, whether they continue their formal education or not.
"Become an inspiring leader, be happy with what you do and in who you are," he said. "(And) create a proud legacy that will transcend your time on Earth."
---
This excerpt is from a May 12, 2019 article in the The Spokesman Review. Click here to read the full article.