September 1, 2018
The Henry M. Jackson Foundation for the Advancement of Military Medicine, Inc. (HJF) has selected a Uniformed Services University of the Health Sciences (USU) doctoral student to receive a fellowship for the 2018-19 academic year.  This year's group of applicants was very competitive. The HJF Fellowship program was established in 1998 and provides a fellow with a year of salary, benefits and travel support.  
Kelsey Voss, a rising fifth-year doctoral student in the Department of Pharmacology & Molecular Therapeutics at USU, will be awarded the HJF Fellowship in Medical Sciences. She is conducting her dissertation in Dr. Andrew L. Snow's lab studying the mechanisms of FOXP3 in restimulation-induced cell death in regulatory and conventional t-cells. The focus of her study is to understand what is regulating or deregulating T-cell death post-infection.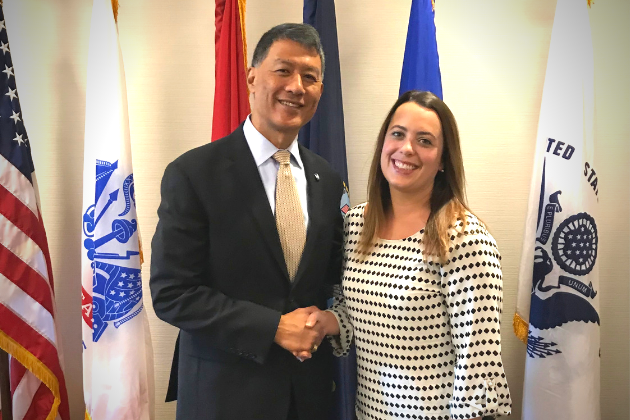 Specifically, Voss is exploring why the immune system 'runs away with itself' after being triggered by an infectious disease. Usually, T-cells are culled after an infection through self-regulation and death. Voss would like to explain why a body's T-cells occasionally fail to regulate themselves and die off after an infection, but instead keep attacking the body. By understanding how the T-cells change their death sensitivity, future therapeutics can be developed that allow for a 'dialing-up or down' depending on the nature and intensity of the infection. This research has far-reaching implications for infectious disease, autoimmune disorders, organ transplantation and cancer.
Through its fellowship program, HJF has assisted almost 50 USU students in their research pursuits.