July 2, 2019
Consolidating military medical research to propel advances
The Henry M. Jackson Foundation for the Advancement of Military Medicine, Inc. is welcoming five research centers and programs to its location in Bethesda, Maryland. The Department of Surgery at the Uniformed Services University of the Health Sciences and the Walter Reed National Military Medical Center (USU Walter Reed Surgery) is aggregating five centers and programs to a facility that also houses HJF's home office.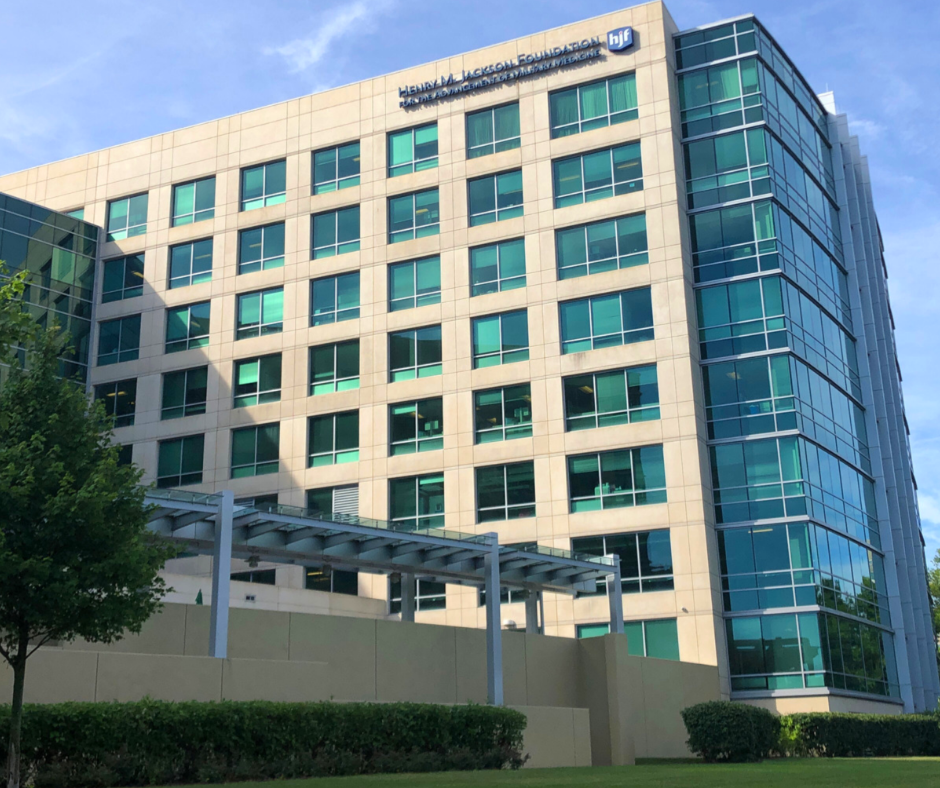 The first activity to move was the Center for Prostate Disease Research (CPDR) in December 2018. The Surgical Critical Care Initiative (SC2i) moved in May 2019. Three more programs will join the facilities later this year. The Murtha Cancer Center Research Program (MCCRP) moved July 1, 2019. The Battlefield Shock and Organ Support (BSOS) and Osseointegration Programs will move later in 2019.
Dr. Eric Elster, Professor & Chair of USU Walter Reed Surgery has said this aggregation will help bring critical research efforts into one cohesive location, which in turn will lead to a critical mass of innovation and efficiencies across a spectrum of surgical research.
The USU Walter Reed Surgery portfolio currently encompasses more than $200M in research funding developing improvements in medical care that benefit our nation's warfighters and civilians alike. The aggregation at a central location will propel the development of cutting-edge research and drive the development of solutions to advance critical and surgical care in public and private healthcare systems. Additionally, more than 180 HJF employees are assigned to USU Walter Reed Surgery programs. These teammates support activities to advance precision medicine in surgical oncology, acute and trauma care, and orthopedics.
"HJF is proud to work closely with such a dedicated group of researchers and support the commendable research into areas such as precision medicine, trauma care, and much more," said HJF President and CEO, Dr. Joseph Caravalho. "The close proximity we will soon share will enable HJF to provide even greater support." 
The move of all five programs is expected to be completed by the end of 2019.
About HJF: The Henry M. Jackson Foundation for the Advancement of Military Medicine, Inc. (HJF) is a global nonprofit organization with the mission to advance military medicine. HJF's scientific, administrative and program operations services empower investigators, clinicians, and medical researchers around the world to make discoveries in all areas of medicine. With more than 35 years of experience, HJF serves as a trusted and responsive link between the military medical community, federal and private partners, and the millions of warfighters, veterans, and civilians who benefit from military medicine. For more information, visit hjf.org.