From Business as Usual to a Global Pandemic
Shortly after the COVID-19 threat was identified, HJF joined its military partners and other medical researchers around the world in the race to find a vaccine and treatments. With significant experience studying HIV, Ebola, anthrax, malaria, SARS-CoV, MERS-CoV, H1N1 and Zika, HJF is especially well-positioned for studying infectious diseases.
HJF is driven to solve the biggest puzzles and hardest problems by using the resources necessary to support the mission. As we move through the COVID-19 pandemic, we continue to anticipate needs, respond at the pace of change and focus on continually adding value to military medical research. 
This global pandemic is taking hundreds of thousands of lives, and HJF is empowering the fight against coronavirus. Our teammates across the globe are working in labs, conducting research, and supporting scientists in their research on therapeutics, diagnostics and vaccine development.
---
90+
Agreements Related to Technology Transfer
98%
Home Office Employees Who Pivoted to Full-Time Telework
An Interdisciplinary Effort
HJF brings nearly four decades of organizational experience with vaccine development, including a history of developing high-throughput diagnostics for viral diseases.
Our interdisciplinary efforts to combat COVID-19 include hiring the best people to support the work, supplying Personal Protective Equipment to our teammates, and ensuring technologies within the Department of Defense reach civilian medicine through our technology transfer efforts. 
Internally, HJF balanced its organizational mission to advance military medicine with the priority of keeping our teammates and colleagues safe. Over 98% of the HJF home office team was able to immediately transition to maximizing telework after the initial declaration of emergency in March of 2020. 
Our Teammates Fighting COVID-19
Brian Agan, Ph.D.

Research Program at the Uniformed Services University of the Health Sciences

2005

My role is to help direct our efforts in response to COVID-19 and support the leadership team, investigators, clinical research managers, site teams, data center, analysts, and other staff as they engage with several COVID-19 studies.

Gordon Joyce, Ph.D.

Chief of Structural Biology; Emerging Infectious Diseases Branch (EIDB), Walter Reed Army Institute of Research

2016

Dr. Joyce produced the most detailed atomic level view of the structure of the SARS-CoV-2 spike protein receptor binding domain—the part of the virus that binds to the lungs.   

Ines Elakhal Naouar, Ph.D.

Associate Lab Director; Walter Reed Army Institute of Research

2013

Dr. Elakhal Naouar helped develop an algorithm-based approach to correctly classify individuals currently infected with COVID-19 and those with prior exposure.

Michele Tisdale

Research Associate; Infectious Disease Clinical Research Program

2009

I help support a clinical trial known as Protocol 124 that is focused on Remdesivir, an antiviral medication being used as a treatment for COVID-19.

Susan Banks, RN

Registered Nurse; Infectious Disease Clinical Research Program 

1998

I supported a study looking at the seroprevalence of novel coronavirus antibodies among personnel deployed on the USNS  Mercy and her sister ship the USNS Comfort. 
---

Global Response: Medical Research in More Than a Dozen Countries 
HJF supports numerous international clinical research sites and laboratories that enable military and civilian scientists to identify, anticipate and counter emerging infectious disease threats. With the Armed Forces Research Institute of the Medical Sciences, which is part of the Walter Reed Army Institute of Research, HJF currently contributes to COVID-19 diagnostics and surveillance in Thailand. 
We have also played a key role in the development of research infrastructure at more than a dozen sites in Africa. Many of these HJF-supported research laboratories are being leveraged to provide COVID-19 testing and substantially expand regional testing capabilities. 
---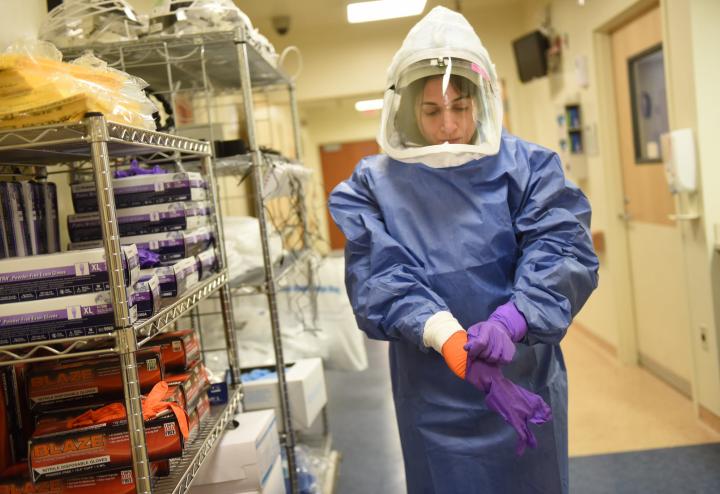 Screening for COVID-19
Preventing viral diseases requires careful screening. With several decades of experience in various locations around the world, HJF provides a deep skill set for this critical process. 
With the Department of Defense and physIQ, a company that specializes in collecting and analyzing continuous physiological data collected from wearable biosensors, HJF launched an initiative to deploy physIQ's platform to better understand COVID-19. Continuous monitoring with sophisticated algorithms evaluates physiologic signals to predict disease progression as well as to provide an early indication of infection and potentially evaluate novel treatments for COVID-19.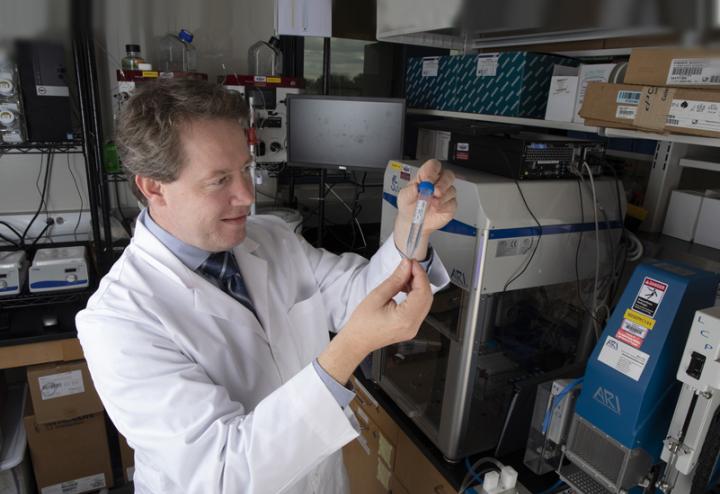 Early Imaging Defines Approach for DoD
Gordon Joyce, Ph.D., an HJF employee and Chief of Structural Biology in the Emerging Infectious Diseases Branch (EIDB), at the Walter Reed Army Institute of Research (WRAIR), has been working diligently to advance research efforts to prevent and treat COVID-19.
Early in the pandemic, he produced the most detailed atomic level view of the structure of the SARS-CoV-2 spike protein receptor binding domain—the part of the virus that binds to the lungs.   
"This detailed understanding of the structure has been critical to vaccine discovery and small molecule development efforts," said Joyce.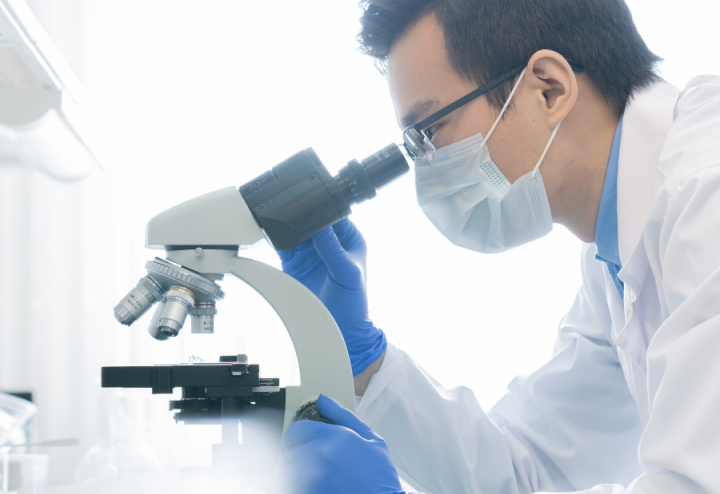 Diagnostics and Countermeasures
Led by Dr. Sheila Peel, the Diagnostics and Countermeasures Branch of the Walter Reed Army Institute of Research responded quickly to the COVID-19 pandemic. Dr. Peel and a Rapid Response Team of experts, including HJF scientists, focused their research on building and supporting military capability, capacity and readiness.
The Branch has played a critical role in developing, improving and evaluating diagnostic technologies to protect Department of Defense personnel and their dependents from SARS-CoV-2 infections. Their efforts include the development of new diagnostic assays and identification of optimal diagnostic testing platforms, assays and algorithms using evidenced-based approaches.
HJF continued to prioritize the health of its teammates through telework and alternative working arrangements. Due to work in the health sector, HJF's teammates were also able to use their proof of employment to receive priority vaccination status. As restrictions and occupancy requirements shifted at different worksites, HJF's leadership stayed communicative and focused on the safety and engagement of our teammates. 
---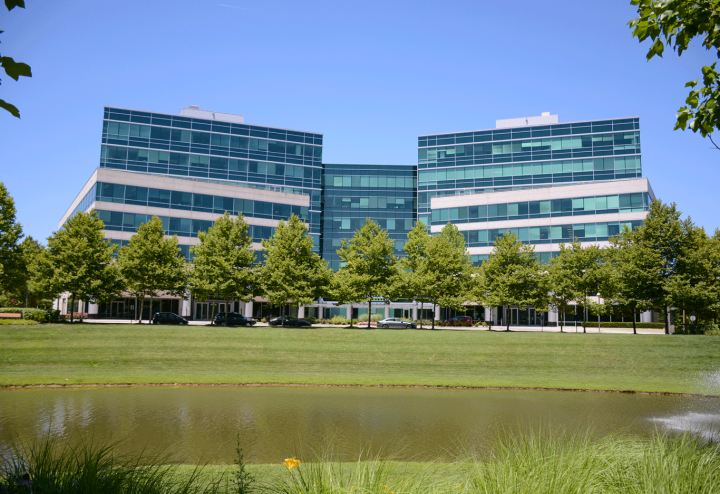 Maximizing Telework
Even before the initial U.S.-wide stay-at-home orders took place, HJF formed a COVID-19 task force. It was convened to develop and communicate HJF's response, including details on a re-engagement plan which incorporated phases based on CDC and local government recommendations.
As the stay-at-home recommendations were announced by the CDC, HJF transitioned to maximum teleworking to enable many employees to work effectively from home.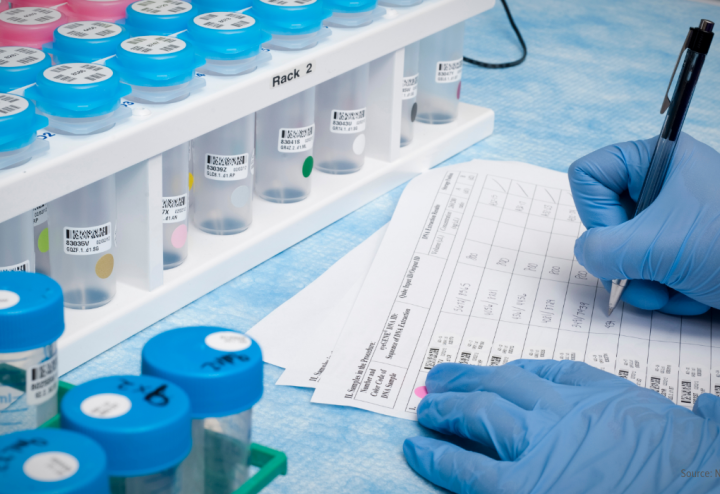 Sourcing PPE for Teammates
In collaboration with federal, global, and industry partners, HJF used a network of researchers, clinicians, and labs to support the response to COVID-19. In its role as the proverbial "connective tissue" between federal researchers and private industry, HJF reached out to the private sector to ask for additional support to source PPE. Multiple individuals and companies answered that call.
"HJF is always ready and willing to assist our military partners with any medical research needs," said HJF President and CEO Dr. Joseph Caravalho. "Likewise, these partner organizations have shown their willingness and ability to act by helping HJF during these pressing times. We thank them for their generosity." 
Among these gracious supporters are United Concordia Dental and Spectrum Healthcare Resources. When HJF frontline researchers and clinicians were directly impacted by the global PPE shortage, United Concordia Dental and Spectrum Healthcare responded by donating much-needed supplies. 
17
USU Programs Supported by HJF Performed Covid-19 Research
78
New Teammates Hired for COVID-19 Research
400
PPE Items Donated by HJF Partners
---
By the second quarter of 2020, the global pandemic was taking thousands of lives, and HJF continued to empower the fight against coronavirus.
Our teammates across the globe are working in labs, conducting research, and supporting scientists researching therapeutics, diagnostics and vaccine development.
---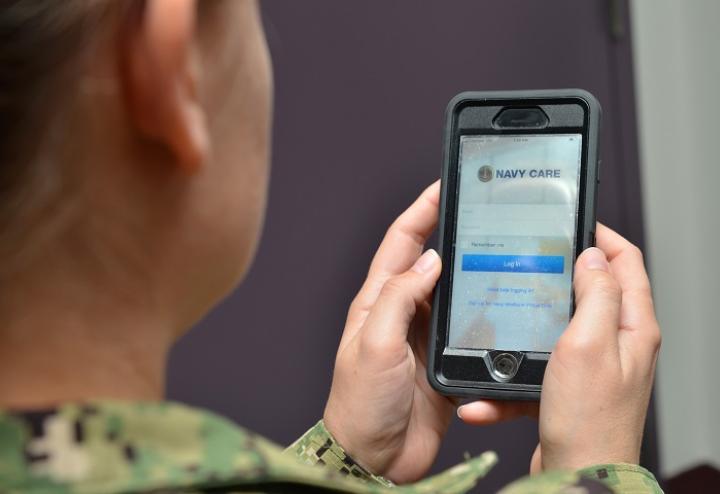 As the pandemic ramped up to over 2,000 new cases of COVID-19 a day in the spring of 2020, researchers at Emory University and the National Center for Disaster Medicine and Public Health (an HJF supported program) developed a web-based, free, educational platform with immediate instructions for next steps in care and information on potential testing sites.
On the website, user enters their age, ZIP code, co-morbidities, and symptoms, and the algorithm classifies their risk as low, intermediate, or high. The website then provides the user with CDC-based recommendations and level of risk as well as ZIP code-specific local health department information, if the user chooses to enter that piece of personal information.   
Study participants found the website user-friendly. To date, there has been high demand for this web-based self-triage tool.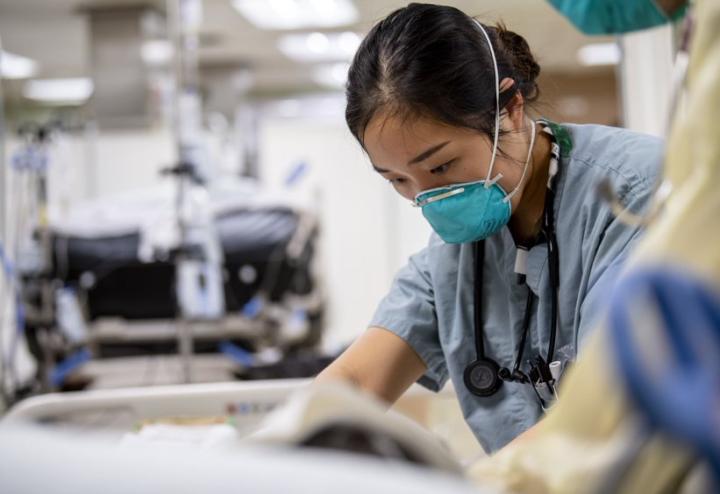 In response to the global pandemic, the Defense Health Agency in the Department of Defense, created the "Vulcan Innovator Challenge" to develop easily manufactured, low-cost ventilators. Over the course of seven days, 172 innovative ideas were submitted by industry, universities, government agencies, and individuals, all with the singular focus for designing a ventilator to fill the impending gap in capacity and save lives.  
Preliminary results revealed several design flaws in the prototypes, which required refinement of the devices. While the prototypes developed and evaluated through the Vulcan Innovator Challenge may be viable last-resort alternatives in severely resource-strained environments, rigorous monitoring and well-trained operators are even more important than with conventional ventilators.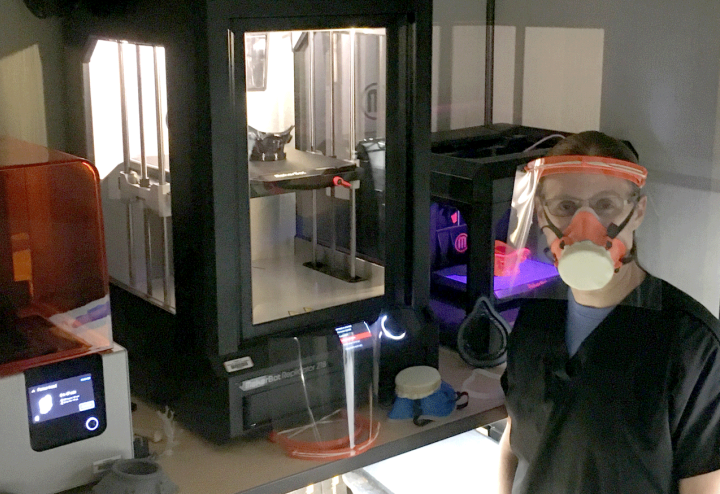 Betsy Weissbrod, a Medical Illustrator at the Val G. Hemming Simulation Center, designed and developed personal protective equipment (PPE) using 3-D printing. With this equipment in short supply and high demand, Weissbrod created a design that could be used by healthcare providers and researchers.
We serve military, medical, academic and government clients by administering, managing and supporting preeminent scientific programs that benefit members of the armed forces and civilians alike. As COVID-19 impacted every facet of our mission, HJF continued to respond with the full resources of our organization to this evolving problem. 
---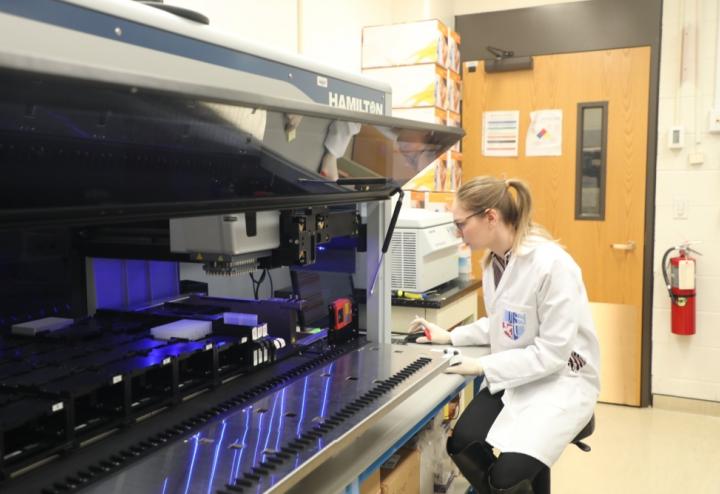 HJF supported immunological COVID-19 research led by scientists from The American Genome Center and the Precision Medicine Initiative for Military Medical Education and Research, which are both part of the Uniformed Services University of the Health Sciences. Their work was part of the COVID Human Genetics Effort, which is a global consortium combining the efforts of more than 50 sequencing hubs and hundreds of hospitals and scientists. Participating centers from the United States and around the globe provided samples to study genetic determinants of susceptibility to severe COVID-19 infection.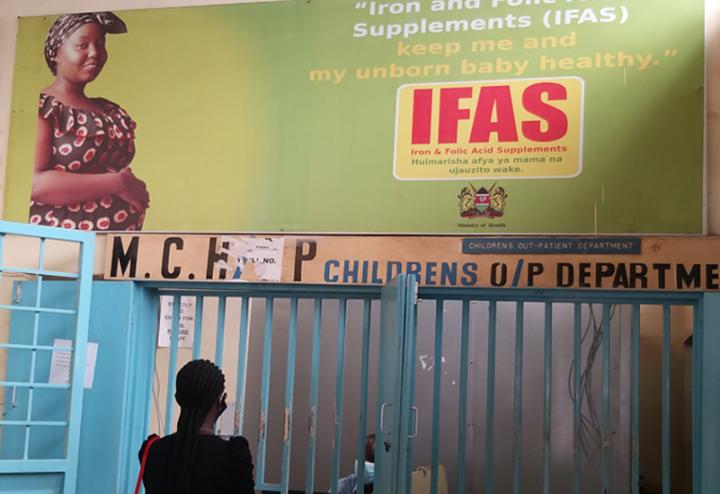 HJF Medical Research International (HJFMRI), a wholly-owned subsidiary of HJF, was awarded $1.3 million by the Bill & Melinda Gates Foundation to support antenatal, intrapartum and postnatal care in the Kenya Child Health and Mortality Surveillance (CHAMPS) and Antenatal/Postnatal Research Collective (ARC) network. This cutting-edge research will address current antenatal and postnatal COVID-19 research gaps in understanding the burden of COVID-19 in pregnant women and newborns. This study precedes the ARC (Antenatal/Postnatal Research Collective) Study, a new four-year initiative aimed at improving antenatal care and postnatal care through risk stratification and reducing maternal and infant mortality.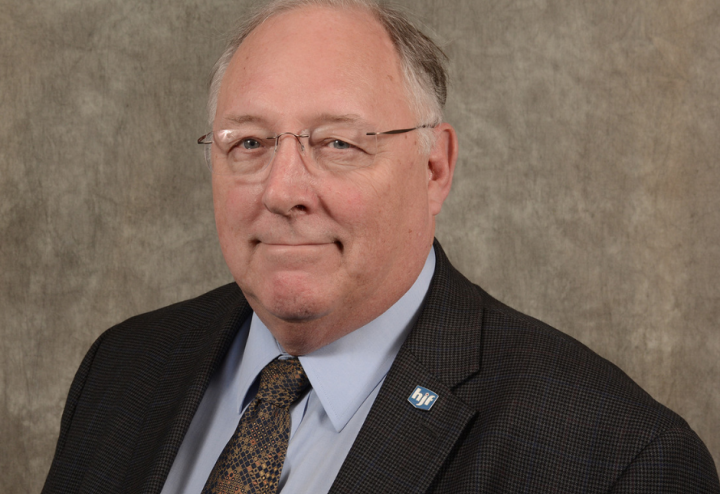 HJF CMO Serving in Federal Vaccine Development
Merlin Robb, MD, HJF's Chief Medical Officer, is currently serving as part of the federal vaccine development effort known as the Countermeasures Acceleration Group. This initiative was created to accelerate the development, manufacturing, and distribution of COVID-19 vaccines, therapeutics and diagnostics. Robb was appointed as co-chair of the clinical trials sub-group within the Vaccine Group. 
"HJF staff worldwide are supporting COVID-19 response efforts with our government and industry partners," says HJF President and CEO Joseph Caravalho, M.D. "Selecting Dr. Robb for this post is a sign of this team's commitment to excellence and results."
Our Health and Safety Manager: Julia Esparza
As the Health and Safety Manager and HJF, Julia's role was thrust almost overnight into a dynamic, shifting landscape.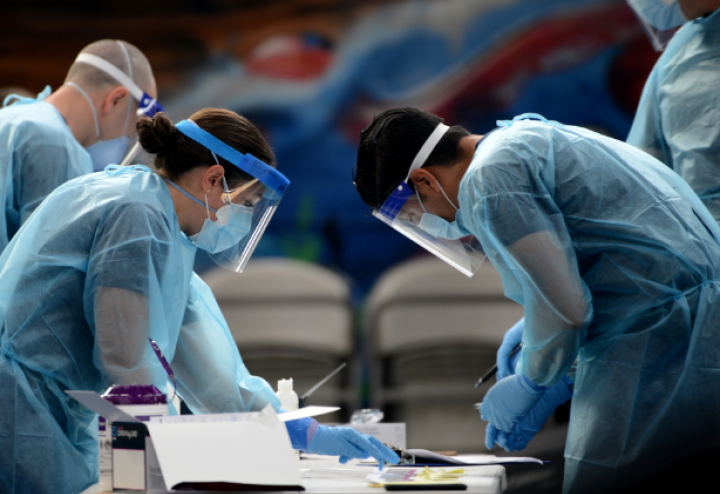 The Imperatives of Biological Defense
HJF supports the Molecular Diagnostics Department at the Biological Defense Research Directorate, which serves as a national resource by providing testing and analysis for the presence of potential biological hazards. 
As part Naval Medical Research Center, the Directorate focuses on how to defend against the threat of biological and chemical warfare, conducting health and medical research, development, testing, evaluation, and surveillance to enhance deployment readiness of Department of Defense personnel worldwide. During the pandemic, this work shifted to include COVID-19.
Naval Medical Center San Diego Research Coordinator: Krystal Caluza
Krystal was instrumental in preparing a laboratory for receiving COVID-19 samples
 HJF's support and administrative capabilities allow military medical researchers and clinicians to maintain their scientific focus and accomplish their research goals.
In 2020, this meant bringing the full weight of our experience and expertise to the pandemic.
We are proud of our contributions to help stop COVID-19 while also keeping our teammates safe.