Dr. Bloom was born in Rock Island, IL. He graduated from Augustana College in 2006 with a Bachelor of Arts in Pre-Medicine. He graduated from Trinity International University with a Master of Arts in Bioethics in 2007. He joined the Army in 2007 and attended Southern Illinois University School of Medicine on an Army Health Professions Scholarship Program. He graduated in 2011 and went on to internship and residency in Emergency Medicine at Brooke Army Medical Center, Fort Sam Houston, Texas. During residency, he participated in multiple research projects and procedural skill sessions. He presented a research abstract at the American College of Emergency Physicians 2014 Scientific Assembly. His work on a separate research study as an associate investigator was published in Resuscitation. He attended the Tactical Combat Casualty Care course in 2014. He graduated residency in 2015 and was sent to Fort Riley, Kansas as his next duty station. He was assigned to the Irwin Army Community Hospital Emergency Department as an attending physician and eventually became the EMS medical director and chief of the department. He was detailed to 2nd Brigade, 4th Infantry Division as a Battalion Surgeon in 2015. He became board-certified in Emergency Medicine in 2016.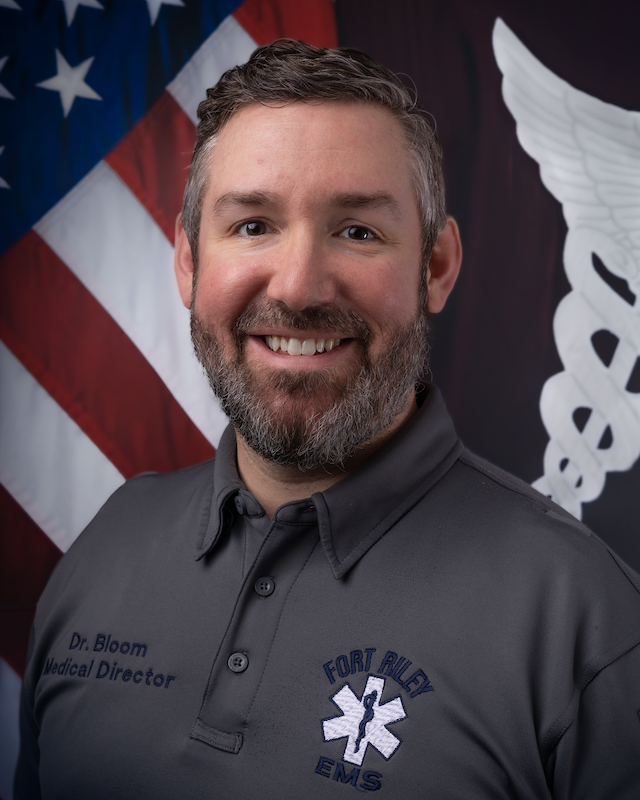 After promotion to Major, he was assigned to be the Brigade Surgeon for 2nd Armored Brigade Combat Team, 1st Infantry Division, also at Fort Riley. He rotated overseas to Poland and Germany in support of the NATO mission Atlantic Resolve from 2017-2018. He completed his final two years of active duty with 2ABCT.   
After completion of active duty, he returned to the IACH Emergency Department as a civilian and continued as the EMS medical director for Fort Riley EMS and Fort Riley Fire and Emergency Services. He has been married to his wife, Kristin, for 12 years, and they have two daughters.   
Dr. Bloom's awards and honors include:  San Antonio Military Medical Center Emergency Medicine Residency Program Emergency Ultrasound Award, Meritorious Service Medal, Army Commendation Medal, Army Achievement Medal, Army Superior Unit Award, National Defense Service Medal, Global War on Terrorism Service Medal, Army Service Ribbon, Overseas Service Ribbon