September 24, 2019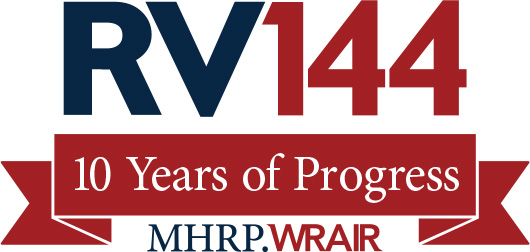 September 24, 2019, marked 10 years since the announcement of results from the Army-led RV144 "Thai Study," the first clinical trial to show efficacy in preventing HIV infection. The trial showed the RV144 regimen lowered the rate of HIV infection by 31.2 percent compared to placebo. HJF provided critical support to the U.S. Military HIV Research Program (MHRP) at the Walter Reed Army Institute of Research that led the study in Thailand.
These study results showed that a preventive HIV vaccine is possible, and the landmark trial continues to provide scientific direction to help guide vaccine development and testing. RV144 and its follow-on trials allowed researchers to discover correlates of risk, provided targets for optimizing vaccine boosting, and formed a foundation for the HIV vaccine candidates currently undergoing efficacy testing.
One example of the enduring impact of RV144 is a study published this year by MHRP researcher Dr. Rasmi Thomas that provides insights into HIV vaccine protection. Thomas' lab identified a transcriptional signature in B cells associated with protection from Simian Immunodeficiency Virus (SIV) or HIV infection in five independent trials of HIV vaccine candidates, including RV144, which can be used to evaluate future vaccine candidates.
In addition to its vaccine and cure research, MHRP also supported nearly 350,000 people in Africa on life-saving treatments for HIV in the last year. This program provides HIV prevention and treatment funded by the President's Emergency Plan for AIDS Relief (PEPFAR) in four African countries where MHRP conducts HIV research.
New Branch to Combat Emerging Diseases
In 2018, the Walter Reed Army Institute of Research (WRAIR) announced the creation of a new Emerging Infectious Diseases Branch (EIDB) to anticipate and counter the mounting threat of diseases of key concern to U.S. forces in the homeland and abroad.
During this past year, the program reached several milestones, including publishing the results of the first-in-man vaccine trial for Middle East respiratory syndrome coronavirus (MERS-CoV). The vaccine candidate was shown to be safe, well-tolerated, and induced a robust immune response in the trial conducted at WRAIR.
A Phase I clinical trial in Uganda was initiated by EIDB and the Makerere University-Walter Reed Project to evaluate the safety and immunogenicity of an Ebola vaccine candidate against the Sudan species of the virus in healthy adult volunteers. Though not the cause of the current DRC outbreak, it has caused multiple outbreaks in the past and is being anticipated and prepared for with the development of a safe and efficacious countermeasure. 
EIDB also continued work on its Zika vaccine developed at WRAIR, through a CDMRP-funded grant, enrolled their 500th volunteer in an acute febrile illness study in West Africa, as part of the JWARG program, initiated the first observation HIV study in Jordan, and developed plans to license a vaccine to protect U.S. forces against tick-borne encephalitis.