We can help you develop a winning proposal.
Viewing this funding opportunity will take you away from HJF.com.
Before you go, remember that our expert team can help you:
prepare a competitive research proposal
negotiate the terms of your award
guide you through the lifecycle of your project
Continue off-site to view: "
This is a stub title.
"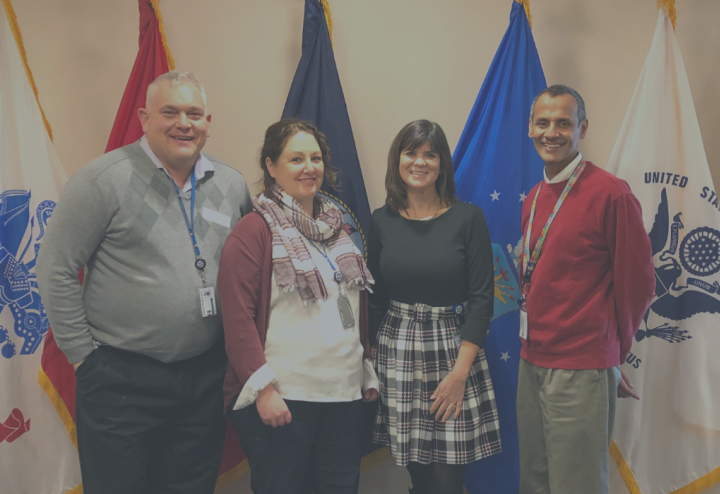 With the assistance and expertise of seasoned editors, statisticians, and protocol developers, HJF can help ensure that your next research proposal will be of superior quality. These powerful services will help you save time by creating a faster turnaround for more successful proposal submissions. Learn more about HJF's corporate capabilities here. 
Filter by Research Focus Area
| Title | Opportunity Number | Sponsor | Closing Date | Research Area |
| --- | --- | --- | --- | --- |
| CCRP Initiative: NIH Countermeasures Against Chemical Threats (CounterACT) Translational Exploratory/Developmental Research Projects (R21 Clinical Trial Not Allowed) | PAR-23-139 | NIH | 2025-05-30 | |
| Modular R01s in Cancer Control and Population Sciences (R01 Clinical Trial Optional) | PAR-21-190 | NIH | 2024-03-08 | |
| Clinical Trials to Test the Effectiveness of Treatment, Preventive, and Services Interventions (R01 Clinical Trial Required) | PAR-21-130 | NIH | 2024-02-15 | |
| Imaging - Science Track Award for Research Transition (I/START) (R03- Clinical Trial Optional) | PAR-21-310 | NIH | 2024-09-08 | |
| Research Project Grant (Parent R01 Clinical Trial Required) | PA-20-183 | NIH | 2024-05-07 | |
| Small R01s for Clinical Trials Targeting Diseases within the Mission of NIDDK (R01 Clinical Trial Required) | PAS-23-086 | NIH | 2026-05-07 | |
| Development of Psychosocial Therapeutic and Preventive Interventions for Mental Disorders (R33 Clinical Trial Required) | PAR-21-134 | NIH | 2024-02-15 | |
| NIDA, NIMH, NINR, and NINDS Research Opportunities for New and "At-Risk" Investigatorsto Promote Workforce Diversity (R01 Clinical Trial Optional) | PAR-22-181 | NIH | 2025-06-07 | |
| NEI Vision Research Epidemiology Grant (UG1 Clinical Trial Not Allowed) | PAR-21-204 | NIH | 2024-09-07 | |
| Basic Research in Cancer Health Disparities (R01 Clinical Trial Not Allowed) | PAR-21-322 | NIH | 2024-09-08 | |
| Development of Software for Data Science in Infectious and Immune-Mediated Diseases Research (U01 Clinical Trial Not Allowed) | RFA-AI-23-038 | NIH | 2023-10-12 | |
| NHLBI Clinical Trial Pilot Studies (R34 Clinical Trial Optional) | PAR-21-079 | NIH | 2024-01-07 | |
| Feasibility Clinical Trials of Mind and Body Interventions for NCCIH High Priority Research Topics (R34 Clinical Trial Required) | PAR-21-240 | NIH | 2024-03-11 | |
| NIH Exploratory/Developmental Research Grant Program (Parent R21 Clinical Trial Required) | PA-20-194 | NIH | 2024-05-07 | |
| Innovation Grants to Nurture Initial Translational Efforts (IGNITE): Neurotherapeutic Agent Characterization and In vivo Efficacy Studies (R61/R33 Clinical Trial Not Allowed) | PAR-21-122 | NIH | 2024-06-20 | |
| NIDCR Small Grant Program for New Investigators (R03 Clinical Trial Not Allowed) | PAR-21-084 | NIH | 2024-09-12 | |
| CDMRP Chronic Pain Management Research Program Investigator-Initiated Research Award (FY23) | HT9425-23-CPMRP-IIRA | CDMRP | 2023-11-09 | |
| NCMRR Early Career Research Award (R03 Clinical Trial Optional) | PAR-23-029 | NIH | 2025-03-29 | |
| Research on Biopsychosocial Factors of Social Connectedness and Isolation on Health, Wellbeing, Illness, and Recovery (R01 Clinical Trials Not Allowed) | PAR-21-350 | NIH | 2024-06-21 | |
| Global Brain and Nervous System Disorders Research Across the Lifespan (R01 Clinical Trials Optional) | PAR-22-097 | NIH | 2024-12-10 | |
| Research on Autism Spectrum Disorders (R21 Clinical Trial Optional) | PA-21-200 | NIH | 2024-03-16 | |
| UNITED STATES MILITARY ACADEMY Broad Agency Announcement | W911NF-20-S-0008 | DoD | 2025-03-31 | |
| Small Grants for New Investigators to Promote Diversity in Health-Related Research (R21 Clinical Trial Optional) | PAR-21-313 | NIH | 2024-09-07 | |
| Limited Competition: Alzheimers Disease Sequencing Project Follow-Up Study 2.0 (ADSP FUS 2.0): The Diverse Population Initiative (U01 Clinical Trial Not Allowed) | PAR-21-212 | NIH | 2024-05-07 | |
| Research Project Grant (Parent R01 Basic Experimental Studies with Humans Required) | PA-20-184 | NIH | 2024-05-07 | |
| Stephen I. Katz Early Stage Investigator Research Project Grant (R01 Clinical Trial Not Allowed) | PAR-21-038 | NIH | 2023-12-28 | |
| CDMRP Chronic Pain Management Research Program Clinical Outcomes Research Award (FY23) | HT9425-23-CPMRP-CORA | CDMRP | 2023-11-09 | |
| Cooperative Research Agreements Related to the World Trade Center Health Program (U01) | PAR-20-280 | NIH | 2023-12-05 | |
| NEI Cooperative Agreement for Early-Stage Clinical Trials with Greater than Minimal Risk (U01 Clinical Trial Required) | PAR-22-149 | NIH | 2025-05-07 | |
| Genomic Curriculum Development for Medical Students (R25 Clinical Trial Not Allowed) | PAR-21-312 | NIH | 2024-01-25 | |
| Cancer Prevention and Control Clinical Trials Grant Program (R01 Clinical Trial Required) | PAR-21-035 | NIH | 2024-01-07 | |
| Effectiveness Trials for Post-Acute Interventions and Services to Optimize Longer-term Outcomes (R01 Clinical Trial Required) | PAR-21-210 | NIH | 2024-03-05 | |
| NCI Clinical and Translational Exploratory/Developmental Studies (R21 Clinical Trial Optional) | PAR-22-216 | NIH | 2025-07-01 | |
| World Trade Center Health Research related to WTC Survivors (U01-No Applications with Responders Accepted) | RFA-0H-22-004 | CDC | 2024-12-13 | |
| Exploratory/Developmental Bioengineering Research Grants (EBRG) (R21 Clinical Trial Optional) | PAR-22-091 | NIH | 2025-01-07 | |
| NINDS Exploratory Clinical Trials (UG3/UH3 Clinical Trial Required) | PAR-22-142 | NIH | 2025-03-10 | |
| Basic Research in Cancer Health Disparities (R21 Clinical Trial Not Allowed) | PAR-21-323 | NIH | 2024-09-08 | |
| Multidisciplinary Studies of HIV/AIDS and Aging (R21 Clinical Trial Optional) | PAR-21-069 | NIH | 2024-01-07 | |
| Exploratory/Developmental Bioengineering Research Grants (EBRG) (R21 Clinical Trial Not Allowed) | PAR-22-090 | NIH | 2025-01-07 | |
| National Cancer Institute's Investigator-Initiated Early Phase Clinical Trials for Cancer Treatment and Diagnosis (R01 Clinical Trial Required) | PAR-21-033 | NIH | 2024-01-07 | |
| HEAL Initiative: Discovery and Validation of Novel Targets for Safe and Effective Pain Treatment (R01 Clinical Trial Not Allowed) | RFA-NS-22-034 | NIH | 2024-12-06 | |
| NIAMS Clinical Trial Implementation Cooperative Agreement (U01 Clinical Trial Required) | PAR-21-036 | NIH | 2023-11-03 | |
| Supporting Talented Early Career Researchers in Genomics (R01 Clinical Trial Optional) | RFA-HG-22-001 | NIH | 2024-02-27 | |
| Pilot Studies of Biological, Behavioral and Social Mechanisms Contributing to HIV Pathogenesis Within the Mission of the NIDDK (R21 Clinical Trial Not Allowed) | PAR-21-062 | NIH | 2024-01-07 | |
| NIDCD Low Risk Clinical Trials in Communication Disorders (R01 Clinical Trial Required) | PAR-21-063 | NIH | 2024-01-07 | |
| NEI Regenerative Medicine Clinical Trial Planning Grant (R34 - Clinical Trials Not Allowed) | PAR-22-070 | | 2025-01-07 | |
| Priority HIV/AIDS Research within the Mission of the NIDDK (R01 Clinical Trial Optional) | PAS-21-031 | NIH | 2024-01-07 | |
| NIDCD Cooperative Agreement for Clinical Trials in Communication Disorders (U01 - Clinical Trial Required) | PAR-21-064 | NIH | 2023-10-10 | |
| Research on Autism Spectrum Disorders (R01 Clinical Trial Optional) | PA-21-201 | NIH | 2024-03-05 | |
| Development of Medications to Prevent and Treat Opioid and/or Stimulant Use Disorders and Overdose (UG3/UH3 - Clinical Trial Optional) | PAR-22-200 | NIH | 2025-09-02 | |
| NIAID Investigator Initiated Program Project Applications (P01 Clinical Trial Not Allowed) | PAR-22-225 | NIH | 2025-09-08 | |
| Prospective Observational Comparative Effectiveness Research in Clinical Neurosciences (UG3/UH3 Clinical Trial Not Allowed) | PAR-22-076 | NIH | 2025-05-07 | |
| Bioengineering Research Grants (BRG) (R01 Clinical Trial Not Allowed) | PAR-22-242 | NIH | 2025-09-08 | |
| Pediatric Immune System Ontogeny and Development (INTEND) (R01 Clinical Trial Not Allowed) | PAR-21-248 | NIH | 2024-05-07 | |
| Pilot Effectiveness Trials for Post-Acute Interventions and Services to Optimize Longer-term Outcomes (R34 Clinical Trial Required) | PAR-21-211 | NIH | 2024-03-16 | |
| NEI Regenerative Medicine Clinical Trial Planning Grant (R34 - Clinical Trials Not Allowed) | PAR-22-135 | NIH | 2025-05-07 | |
| Large Research Projects for Combating Antibiotic-Resistant Bacteria (CARB) (R01) | PA-22-047 | NIH | 2026-10-30 | |
| NIH Exploratory/Developmental Research Grant Program (Parent R21 Clinical Trial Not Allowed) | PA-20-195 | NIH | 2024-05-08 | |
| NCI Small Grants Program for Cancer Research for Years 2023, 2024, and 2025 (NCI Omnibus) (R03 Clinical Trial Optional) | PAR-23-058 | NIH | 2026-01-08 | |
| Exploratory Clinical Trial Grants in Arthritis and Musculoskeletal and Skin Diseases (R21 Clinical Trial Required) | PAR-21-045 | NIH | 2023-11-03 | |
| BDF Start-Up Grant Program (FY23) | BSF Start Up Grant (FY23) | BSF | 2023-11-29 | |
| Stephen I. Katz Early Stage Investigator Research Project Grant (R01 Basic Experimental Studies with Humans Required) | PAR-21-039 | NIH | 2023-12-28 | |
| Multidisciplinary Studies of HIV/AIDS and Aging (R01 Clinical Trial Optional) | PAR-21-068 | NIH | 2024-01-07 | |
| CDMRP Defense Medical Research and Development Program (DMRDP) Joint Program Committee-6/Combat Casualty Care Research Program Trauma Immunology Research Award (FY23) | HT9425-23-DMRDP-TIRA | CDMRP | 2023-11-09 | |
| Clinical Observational (CO) Studies in Musculoskeletal, Rheumatic, and Skin Diseases (R01 Clinical Trial Not Allowed) | PAR-21-053 | NIH | 2023-11-03 | |
| NIH Small Research Grant Program (Parent R03 Clinical Trial Not Allowed) | PA-20-200 | NIH | 2024-05-07 | |
| NIH Research Project Grant (Parent R01 Clinical Trial Not Allowed) | PA-20-185 | NIH | 2024-05-08 | |
| Airman Readiness Medical Research (ARMR) | FA8650-20-S-6008 | AFRL | 2026-04-30 | |
| Joint NINDS/NIMH Exploratory Neuroscience Research Grant (R21 Clinical Trial Optional) | PA-21-219 | NIH | 2024-05-07 | |
| Research on Biopsychosocial Factors of Social Connectedness and Isolation on Health, Wellbeing, Illness, and Recovery (R01 Clinical Trial Required) | PAR-21-352 | NIH | 2024-09-07 | |
| Mentored Research Scientist Development Award (Parent K01 - Independent Clinical Trial Not Allowed) | PA-20-190 | NIH | 2026-09-08 | |
| Technology Development to Reduce Health Disparities (R01 Clinical Trial Optional) | RFA-EB-21-001 | NIH | 2024-05-02 | |
| CDMRP Chronic Pain Management Research Program Clinical Exploration Award (FY23) | HT9425-23-CPMRP-CEA | CDMRP | 2023-11-09 | |
| Research on Autism Spectrum Disorders (R03 Clinical Trial Optional) | PA-21-199 | NIH | 2024-03-16 | |
| Exploratory Grants in Cancer Control (R21 Clinical Trial Optional) | PAR-21-341 | NIH | 2024-10-08 | |
| NIH Pathway to Independence Award (Parent K99/R00 Independent Clinical Trial Not Allowed) | PA-20-188 | NIH | 2024-05-07 | |
| HEAL Initiative: Team Research for Initial Translational Efforts in Non-addictive Analgesic Therapeutics Development [Small Molecules and Biologics] (U19 Clinical Trial Not Allowed) | RFA-NS-22-052 | NIH | 2023-10-10 | |
| Bioengineering Partnerships with Industry (U01 Clinical Trial Optional) | PAR-22-123 | NIH | 2025-01-07 | |
| Maximizing Investigators' Research Award (R35 - Clinical Trial Optional) | PAR-22-180 | NIH | 2025-05-17 | |
| NINDS Ruth L. Kirschstein National Research Service Award (NRSA) for Training of Postdoctoral Fellows (F32 Clinical Trial Not Allowed) | PAR-21-032 | NIH | 2024-05-07 | |
| NIAMS Clinical Trial Planning Grant (R34) - Clinical Trial Not Allowed | PAR-22-205 | NIH | 2023-11-04 | |
| Advancing Research to Develop Improved Measures and Methods for Understanding Multimorbidity (R01 Clinical Trial Optional) | PAR-20-179 | NIH | 2024-01-07 | |
| Efficient and Innovative Natural History Studies Addressing Unmet Needs in Rare Diseases (R01) Clinical Trials Not Required (FY23) | RFA-FD-22-001 | FDA | 2024-02-14 | |
| Using Innovative Digital Healthcare Solutions to Improve Quality at the Point of Care (R21/R33 - Clinical Trial Optional) | PA-21-164 | NIH | 2024-07-17 | |
| Clinical Trials to Test the Effectiveness of Treatment, Preventive, and Services Interventions (Collaborative R01 Clinical Trial Required) | PAR-21-129 | NIH | 2024-02-15 | |
| PHS 2023-2 Omnibus Solicitation of the NIH for Small Business Technology Transfer Grant Applications (Parent STTR [R41/R42] Clinical Trial Not Allowed) | PA-23-232 | NIH | 2024-04-06 | |
| Integrating Biospecimen Science Approaches into Clinical Assay Development (U01 Clinical Trial Not Allowed) | PAR-22-049 | NIH | 2024-09-13 | |
| Early Stage Investigator Research Using Nonhuman Primate (NHP) Models (R21 Clinical Trial Not Allowed) | PAR-21-109 | NIH | 2024-05-07 | |
| AHRQ Health Services Research Projects (R01) | PA-18-795 | NIH | 2024-07-08 | |
| Single-Site Investigator-Initiated Clinical Trials (R61/R33 Clinical Trial Required) | PAR-22-189 | NIH | 2025-09-11 | |
| Confirmatory Efficacy Clinical Trials of Non-Pharmacological Interventions for Mental Disorders (R01 Clinical Trial Required) | PAR-21-132 | NIH | 2024-02-15 | |
| Maximizing Investigators' Research Award (MIRA) for Early Stage Investigators (ESI) (R35 - Clinical Trial Optional) | PAR-23-145 | NIH | 2026-02-04 | |
| Research Opportunities in Established Cancer Epidemiology Cohort Studies (U01 Clinical Trial Not Allowed) | PAR-22-162 | NIH | 2025-02-28 | |
| NEI Research Grant for Vision-Related Secondary Data Analysis (R21 Clinical Trial Not Allowed) | PAR-22-141 | NIH | 2025-05-07 | |
| BRAIN Initiative: Transformative Brain Non-invasive Imaging Technology Development (UG3/UH3 Clinical Trial Not Allowed) | RFA-EB-22-001 | NIH | 2023-10-13 | |
| Strengthening Teamwork for Robust Operations in Novel Groups (STRONG) | W911NF-19-S-0001 | US ARMY RESEARCH LABORATORY | 2028-10-29 | |
| NIH Research Project Grant (Parent R01 Clinical Trial Not Allowed) | PA-20-185 | NIH | 2028-05-07 | |
| NHLBI Early Phase Clinical Trials for Therapeutics and/or Diagnostics (R33 Clinical Trial Required) | PAR-21-118 | NIH | 2024-01-07 | |
| Stephen I. Katz Early Stage Investigator Research Project Grant (R01 Clinical Trial Not Allowed) | PAR-20-038 | NIH | 2023-12-28 | |