Joseph Caravalho, Jr., M.D., MG, U.S. Army, Ret.
President and Chief Executive Officer, serving HJF since 2017
Dr. Caravalho is responsible for the guidance and leadership of HJF. He sets strategic goals and guides HJF in advancing military and civilian medicine. 
Prior to joining HJF, Dr. Caravalho served as the Joint Staff Surgeon at the Pentagon in Washington, D.C. He was the Chief Medical Adviser to the Chairman of the Joint Chiefs of Staff, providing recommendations to the Chairman, the Joint Staff and Combatant Commanders on a wide range of medical and readiness issues.
Before becoming Joint Staff Surgeon, he was Army Deputy Surgeon General and Deputy Commanding General (Support) of the U.S. Army Medical Command. Clinically, Dr. Caravalho held positions as a staff internist, nuclear medicine physician and cardiologist.
Dr. Caravalho graduated with a M.D. from the Uniformed Services University of the Health Sciences School of Medicine in 1983. He also has a B.A. in math from Gonzaga University, and a master's degree in Strategic Studies from the Army War College. In 2019 he received an honorary doctor of laws from Gonzaga University. 
For more than 30 years, he has served the U.S. Army in various leadership positions, including Commanding General of the Southern Regional Medical Command and Brooke Army Medical Center, the Northern Regional Medical Command, and the Army Medical Research and Materiel Command at Fort Detrick in Maryland.
---
Elizabeth "Betsy" Folk
Executive Vice President and Chief Operating Officer, serving HJF since 1992
Ms. Folk is responsible for keeping the headquarters functions coordinated and synchronized on behalf of the president and CEO.
Prior to serving as Executive Vice President and Chief Operating Officer, she led HJF's Office of Sponsored Programs and Acquisitions, which serves as the central point of contact for administration of grants and contracts awarded to HJF. The office handles many activities, including award set-up, management and compliance, procurement of supplies and services, and negotiation and management of agreements with collaborating institutions.
Before joining HJF as manager of the Finance Department, Ms. Folk worked for Deloitte as a CPA for five years. She has held various roles at HJF, including Director of Financial Planning and Vice President of Program Services. She has an MBA from the University of Maryland.
---

Catherine M. Clark, J.D.
Senior Vice President, General Counsel and Secretary, serving HJF since 2015
Ms. Clark leads HJF's legal team in support of our mission and advises management and the Council of Directors on legal matters affecting the organization.
Before joining HJF as Assistant General Counsel in 2015, Ms. Clark served as Vice President and Assistant General Counsel of Vencore, Inc. (formerly QinetiQ North America, Inc.), and held prior positions with other government contracting organizations and in private practice.
Ms. Clark received her B.A. cum laude from Dickinson College and her J.D. magna cum laude from the Catholic University of America's Columbus School of Law where she served on the Editorial Board of the Law Review.
---

Cynthia L. Gilman, J.D.
Senior Vice President, Strategic Initiatives, serving HJF since 2007
Cynthia Gilman supervises all strategic initiatives, business development and public-private partnership efforts.
Previously, Ms. Gilman led the Center for Public-Private Partnerships, where she directed the effort to foster collaborations among the Department of Defense, Department of Veterans Affairs, and civilian universities and industries to advance the long-term health and well-being of America's wounded, ill and injured service members, veterans and their families. She also led the Heroes of Military Medicine Awards dinners and The Veterans Metrics Initiative.
Prior to joining HJF, Ms. Gilman was a partner for 11 years in a Washington, D.C., law firm after practicing law for 10 years in San Diego. She received her bachelor's from Emory University and her J.D. from the University of San Diego School of Law. She also studied for one year at the London School of Economics.
---

Michael Stambaugh, GPHR, SPHR
Senior Vice President and Chief Human Resources Officer, serving HJF since 2018
Mr. Stambaugh acts as HJF's principal strategic advisor on global human capital and human resources directives and initiatives and is responsible for leading a human resources team that is flexible, responsive and focused on customer service.
Prior to joining HJF, Mr. Stambaugh was Vice President for Human Resources at Women for Women International, which serves women who are survivors of war in post-conflict and conflict-affected countries. He was also Director of International Human Resources at Creative Associates International and spent 10 years overseas with Kellogg Brown & Root.
Mr. Stambaugh is an Army veteran. He received his master's degree in human resources and employee relations from Penn State.
---

Corey Hastings, MBA, CPA
Senior Vice President, Chief Financial Officer and Treasurer, serving HJF since 2018
Mr. Hastings is responsible for ensuring the integrity of HJF's financial and budgetary controls and reporting systems, ensuring adequate financial flexibility to execute the company's operating and strategic plans, and informing executive decision-making across HJF.
Prior to joining HJF, Mr. Hastings was with the AARP Foundation as Vice President, Workforce Programs. He was promoted from Director of Finance. He was also previously Executive Manager of the Uniformed Services University's Center for Neuroscience and Regenerative Medicine. He also held finance and management positions with Development Alternatives, Inc. and HJF, as a Program Manager at Uniformed Services University.
He received a MBA from the Raymond A. Mason School of Business at William and Mary and a B.A. in English from the University of Virginia in Charlottesville.
---
Merlin Robb, M.D.
Vice President & Chief Medical Officer, serving HJF since 2001
Dr. Merlin Robb advises HJF leadership and staff on all medical-related matters. A retired Lieutenant Colonel from the United States Army Medical Corps, he is a board-certified pediatric infectious disease specialist. For 17 years, Dr. Robb served as HJF's Program Director in support of the Military HIV Research Program (MHRP), which is part of the Walter Reed Army Institute of Research (WRAIR). He played an essential role establishing the program's vaccine development efforts in East Africa, where he helped create durable partnerships with African collaborators.
Dr. Robb completed his internship and residency at Madigan Army Medical Center, Tacoma, Washington. He was also a Fellow in Pediatric Infectious Diseases at Walter Reed Army Medical Center, Washington, DC. He received his M.D. from Baylor College of Medicine in 1981.
---

La Shaun J. Berrien, Ph.D.
Vice President for Research Administration, serving HJF since 2005
Dr. Berrien leads HJF's Office of Research Administration. The office serves as the central point of contact for managing research grants and contracts awarded to HJF as well as facilitating the transfer of innovative technologies from HJF's research portfolio to industry partners. Additional activities include award set-up, management and compliance, and collaborations with fellow research organizations.
Dr. Berrien joined HJF in 2005 eventually becoming the Director of the Joint Office of Tech Transfer and the Director of Intellectual Property. In 2011, she left HJF to become a principal consultant at the Berrien Caldwell Group. After several years managing business development operations and expanding business strategies, she rejoined HJF as the Senior Director of Technology Transfer.
Dr. Berrien has a Ph.D. in Mechanical Engineering with a focus in biomechanics from Virginia Tech, a B.S in Mechanical Engineering with a focus in biotechnology from MIT and is a Registered Patent Agent.
---
Jessica A. Bejarano, J.D.
Vice President and Chief Ethics and Compliance Officer, serving HJF since 2018
Ms. Bejarano is responsible for establishing, maintaining and overseeing an effective compliance and ethics program for the Foundation.
Prior to joining HJF, Ms. Bejarano served as Chief Ethics and Compliance Officer at PAE where she was responsible for the ethics and compliance program, the Code of Conduct, ethics and compliance training, and leading investigations as needed. She also chaired the Compliance Council and Privacy and Data Protection Council. Ms. Bejarano also served as an Empowered Official for the International Trade Compliance Office and managed government contracts for Lockheed Martin.
Ms. Bejarano received her bachelor's degree in Government and International Relations from Cornell University, and her J.D. and General Counsel Certificate from Syracuse University College of Law.
---
Rizwan A. Jan, CISSP, PCIP, CTPRP
Vice President and Chief Information Officer, serving HJF since 2016
Mr. Jan is responsible for directing IT operations, including the strategy, execution and management of HJF's technical assets. He previously served as Chief Information Security Officer (CISO) and launched HJF's Global Information Security Office.
As CISO, Mr. Jan directed staff in identifying, developing, implementing and maintaining processes across HJF to reduce IT risks and protect HJF's information according to U.S. cybersecurity regulations. Mr. Jan also developed the Cybersecurity Awareness Program to maintain awareness among HJF employees.
Mr. Jan holds a bachelor's degree in Business Administration (Finance) from Frostburg State University. He is a member of (ISC)², an international nonprofit association for information security leaders. He has been a Payment Card Industry Professional and Internal Security Assessor from the PCI Security Standards Council and is currently a Certified Third-Party Risk Professional from Shared Assessments. He is also a member of the ISACA CSX Working Group and sits on the Enterprise Mobility Advisory Board.
---
Hilary Longo
Vice President and Chief Communications Officer, serving HJF since 2018
Ms. Longo is responsible for the Public Relations, Communications and Design functions worldwide. She spearheads all corporate marketing, branding and communication efforts, internally and externally. Ms. Longo is responsible for the development, implementation and measurement of the HJF strategic communications plan.
Prior to joining HJF, Ms. Longo led strategic communications and marketing functions for international high-tech organizations where she created, socialized and implemented multi-channel communication programs to support corporate objectives. She was Principal and Chief Marketing Officer for Marketing Habit, and Vice President, Marketing, North America, for Eurotech.
Ms. Longo has a M.S. in technology management from the University of Maryland University College and a B.S. in technical communications from Clarkson University.
---

Andrea M. Stahl, Ph.D., Colonel, U.S. Army, Ret.
Dr. Stahl leads HJF's Uniformed Services University of the Health Sciences (USUHS) portfolio, overseeing the administrative and scientific staff providing support to USUHS graduate schools and research Centers.
Before joining HJF, Dr. Stahl served for 30 years as a medical service officer in the United States Army, retiring in 2018 in the rank of Colonel. She spent many years working in the Biological, Chemical, and Radiological defense program at Fort Detrick, Maryland, and served as both a laboratory commander and deputy commander at USAMRMC.
Dr. Stahl received her B.A. from Bucknell University in 1988 and majored in Biology and Psychology. She earned an M.S., M.Phil, and Ph.D. (1998) from Yale University in the Department of Cellular and Molecular Physiology.  
---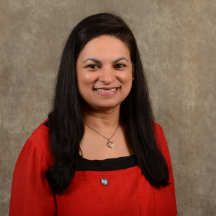 Sandhya Vasan, M.D.
Director of HJF Component of Military HIV Research Program (MHRP) & Emerging Infectious Disease Branch, serving HJF since 2011
In 2019, Dr. Sandhya Vasan became the Principal Investigator representing HJF for MHRP's cooperative agreement (CA) with the DoD. In addition to overseeing HJF components of the CA, she provides key leadership for MHRP's wide array of basic and clinical studies. She has been with MRHP since 2011, initially in Bangkok, Thailand.
Dr. Vasan obtained her undergraduate degree in mechanical engineering at the Massachusetts Institute of Technology before completing her MD at the Harvard-MIT Division of Health Sciences and Technology at Harvard Medical School. After a residency in pediatrics at Johns Hopkins University, she worked as a Henry Luce Foundation Fellow at the Communicable Disease Centre in Singapore, where she studied patterns of tuberculosis and HIV co-infection and worked with the National University of Singapore to conduct public health surveillance studies in rural Indonesia. From 2002-2011, Dr. Vasan conducted clinical trials and nonhuman primate studies of HIV vaccines and adjuvants and related immunology research at the Aaron Diamond AIDS Research Center and the Rockefeller University. 
Dr. Vasan recently served as MHRP's Associate Director for HIV Vaccine Research, and prior to that she served MHRP at AFRIMS in Bangkok for seven years as Science Director and head of the Nonhuman Primate Laboratory. At AFRIMS, she conducted preventive vaccine trials in follow-up to the RV144 HIV vaccine clinical trial. She also developed animal models to understand the mechanism of action of these vaccines and pursue novel HIV prevention strategies.
---

Tiffany Hamm, Ph.D. 
Senior Director, Global Operations Portfolio, serving HJF since 2003 
Dr. Hamm leads HJF's Global Operations Portfolio, overseeing scientific management of programs and research centers that are part of the HJF's global efforts. She has more than 16 years of expertise working with nonprofits and U.S. government-funded institutions in executing global public health programs. 
Dr. Hamm previously worked with the U.S. Military HIV Research Program (MHRP), Department of International HIV Prevention and Treatment (IHPT) and the Department of State's Office of the U.S. Global AIDS Coordinator and Health Diplomacy. She was instrumental in the building of MHRP's program under the President's Emergency Plan for AIDS Relief (PEPFAR), first as the Director for Global Health, then more recently as its Senior Technical Director. In her roles, she supported Walter Reed Army Institute of Research to develop and expand MHRP capacity in Tanzania, Kenya, Uganda, and Nigeria in executing high quality and impactful public health programs and concurrent research.
Dr. Hamm received her B.A. in Chemistry from Mary Baldwin College in 1989 and earned her Ph.D. in Microbiology from the University of Virginia in 2000.
---