Ines Elakhal Naouar, Ph.D; Associate Lab Director-PDL,
Diagnostics and Countermeasures Branch (DCB)
Walter Reed Army Institute of Research (WRAIR)
HJF employee since 2013 
---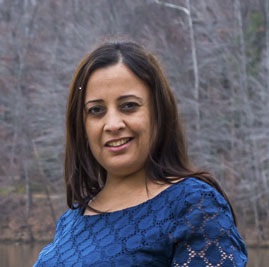 ---
Over the last few months Dr. Ines Elakhal Naouar has been helping prepare the WRAIR diagnostics laboratories to support COVID-19 surge testing for the Military and the National Capital Area. The Institute's Diagnostics and Countermeasures Branch, led by Dr. Sheila A Peel, is supported by HJF.
In January, there were very few assays (tests) available for SARS-COV-2 diagnosis, and many unknowns surrounding this new disease. The DCB rapid response team, including Dr. Elakhal Naouar, immediately sought to develop an algorithm-based approach to correctly classify COVID-19 infected and prior exposed individuals. First, they identified and deployed an assay under Emergency Use Authorization (EUA) for clinical testing in April.
In parallel, Dr. Elakhal Naouar is leading efforts to develop a high throughput assay and other molecular assays to assess viral clearance and to use in vaccine studies.  So far, the DCB multiplex assay they developed has shown to be sensitive and specific for SARS-COV-2 with good clinical performance. She and her team are working now to transition and validate the DCB assay on a commercially available platform, which will automate extraction and amplification for quicker, high-throughput results.