Area of Research
Location
Bethesda, MD
United States
Ines Elakhal Naouar, Ph.D; Associate Lab Director-PDL,
Diagnostics and Countermeasures Branch (DCB)
Walter Reed Army Institute of Research (WRAIR)
HJF employee since 2013 
---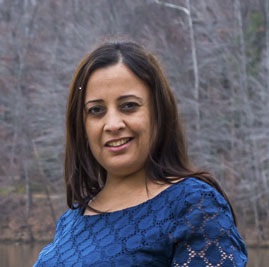 ---
Over the last 18 months, Dr. Ines Elakhal Naouar has been supporting the WRAIR Diagnostics and Countermeasures Branch (DCB) by developing new diagnostic tools to answer Military relevant COVID-19 questions.
The DCB rapid response team, including Dr. Elakhal Naouar, designed, evaluated, and validated a manual assay for the quantification of SARS-CoV-2 viral burden (genomic viral load assays) and intermediate viral replication species (subgenomic RNA: sgRNA). The assays were used in support of WRAIR SpFN vaccine challenge studies in animal models (Non-human primates and Hamsters) to monitor viral load and replication kinetics of the virus. The sgRNA assay was shown to be a useful tool to assess viral clearance in vaccine efficacy studies. In addition, the sgRNA assay was used to support viral load determinations in US Military personnel  in support of a WRAIR Emerging Infectious Disease Branch (EIDB)  Public Health project.
In parallel, Dr. Elakhal Naouar and the team validated the sgRNA assay on a high throughput platform (Hologic Panther-Fusion) using the open access functionality for integration  as a clinical  Laboratory Developed Test (LDT) to inform patient management. The assay met the FDA/CAP guidelines for an LDT in terms of sensitivity, specificity, accuracy and precision.
Results from these studies were reported in four peer-reviewed high impact journals in collaboration with EIDB and other collaborators.