LTC Michelle Colacicco-Mayhugh is the Military Deputy to the Principal Assistant for Acquisition at the U.S. Medical Research and Development Command. In addition, since April 2020, she has served as a Product Lead for the Coronavirus Disease 2019 (COVID-19) Joint Acquisition Task Force and the Defense Assisted Acquisition Cell, supporting the interagency response to the COVID-19 pandemic.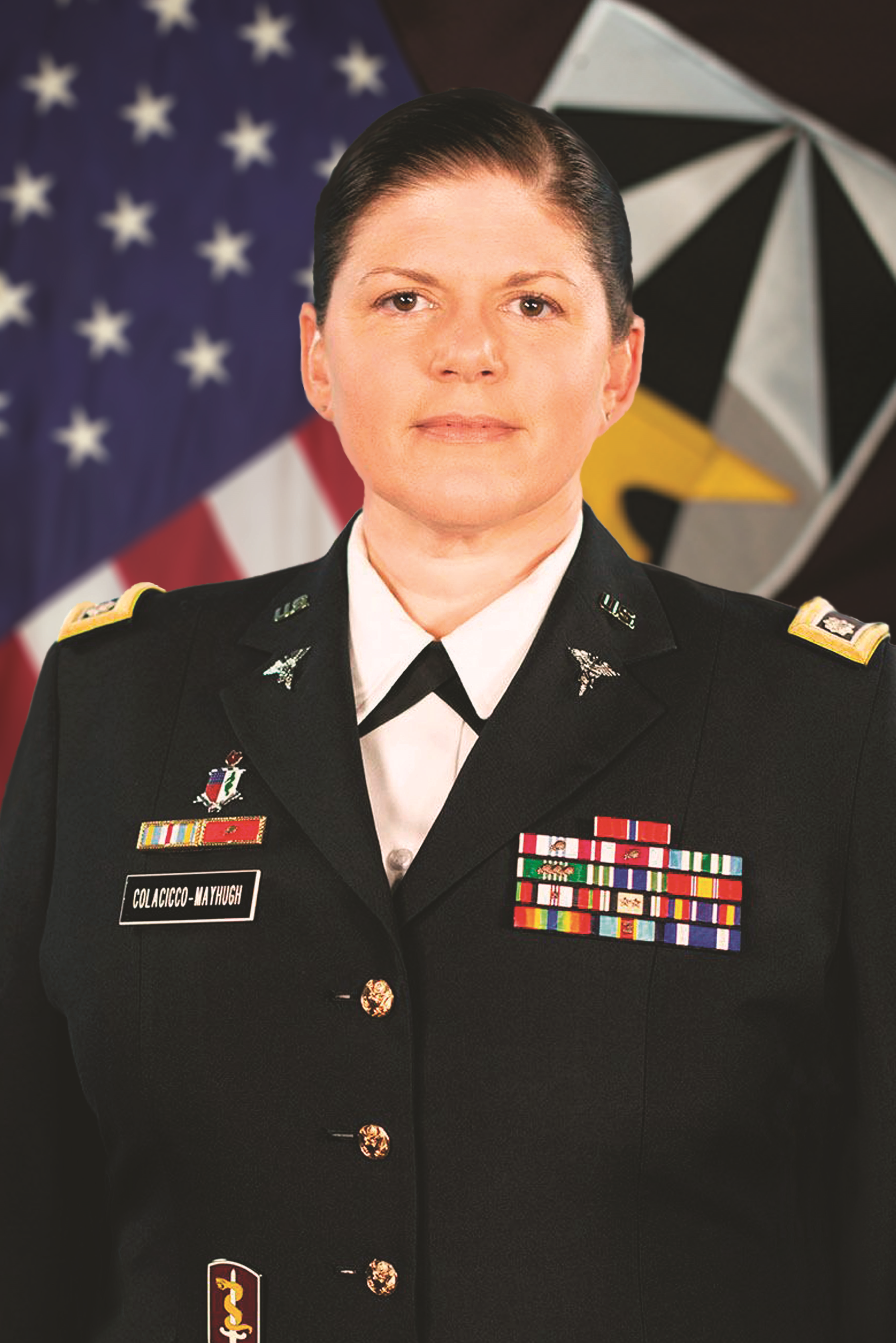 Her past assignments include: Executive Officer, 71st Medical Detachment (Preventive Medicine),  Grafenwoehr, Germany; Preventive Medicine Operations Officer, 30th Medical Brigade and Force Health Protection Officer, Combined Joint Task Force – 7 , Operation Iraqi Freedom; Staff Entomologist, U.S. Army Center for Health Promotion and Preventive Medicine – Europe, Landstuhl, Germany; Chief, Department of Sand Fly Biology and Chief, Department of Vector Control, Walter Reed Army Institute of Research, Silver Spring, MD; U.S. Forces Afghanistan Theater Entomologist and Logistician, 1st Area Medical Laboratory, Kandahar, Afghanistan; Chief, Environmental Health and Engineering Division, Public Health Command Region – South, San Antonio, TX; Director of the Public Health Specialist Program, Medical Education and Training Campus; Product Director, Joint Program Management Office for Medical Countermeasure Systems; Executive Officer, Public Health Directorate, Deputy Chief of Staff for Public Health, U.S. Army Medical Command; and Public Health Transition Planning Officer (NDAA FY17), Public Health Division, Defense Health Agency.
LTC Colacicco-Mayhugh received a direct commission upon completion of her MS in Entomology from Clemson University. She later earned a PhD in Medical Zoology from the Uniformed Services University of the Health Sciences. She is a member of the Army Acquisition Corps; holds DoD Acquisition Level III Certification in Program Management and Level II Certification in Science and Technology Management, and is a certified Project Management Professional. Her military education includes: Command and General Staff College, the Army Medical Department (AMEDD) Officer Advanced Course, and the AMEDD Officer Basic Course.
LTC Colacicco-Mayhugh is a member of the Order of Military Medical Merit. Her military awards include the Bronze Star Medal, the Defense Meritorious Service Medal with Oak Leaf Cluster, the Meritorious Service Medal with Oak Leaf Cluster, the Joint Service Commendation Medal, the Army Commendation Medal with three Oak Leaf Clusters, and the Army Achievement Medal.