Benjamin Hall currently serves as a State Department correspondent for Fox News Channel (FNC). He joined the network in 2015 and is based in Washington, D.C. 
During his tenure with the network, Hall has covered numerous breaking news stories, from the front lines in Syria and Iraq during the battle against ISIS, to the wars in Afghanistan and Gaza. Most recently, he reported extensively on Russia's invasion of Ukraine, including anchoring primetime special hours from Kyiv and Lviv, Ukraine. 
Previously, Hall was a foreign correspondent based in London, England. In this capacity, he covered President Biden's first overseas trip to Europe. He also reported on President Trump's first overseas trip to Saudi Arabia, and was in Singapore for the 2019 summit between President Trump and North Korean leader Kim Jong Un. He also contributed to the network's coverage of Prince Harry's wedding to Meghan Markle as well as Prince Philip's funeral. He has covered elections in numerous countries, interviewed presidents, prime ministers, foreign ministers, U.S. commanders, ISIS prisoners, and survivors of the genocide against Uighers in China.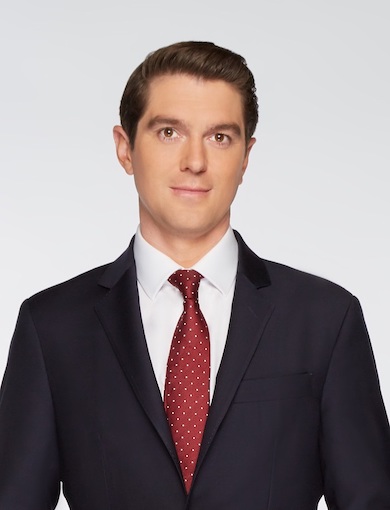 Additionally, Hall's breaking news coverage has included reporting on numerous terror attacks, from Paris, to Brussels, Nice, Munich, and Istanbul; the Russian poisoning of dissidents, and the death of Saudi journalist Jamal Khashoggi; the release of U.S. prisoners abroad, the use of chemical weapons by the Assad regime, and negotiations between U.S. and Iran ahead of the nuclear agreement; BLN protests and the origins and fallout of the global pandemic. 
Prior to joining FNC, Hall worked as a war correspondent in the Middle East and Africa. He has written for the New York Times, Sunday Times, BBC, The London Times, Agence France Presse, Playboy and Esquire Magazine. Additionally, he has reported for the British TV stations ITN and Channel 4, and has embedded with rebel and regime troops alike, often reporting from behind enemy lines in Libya, Syria, Iraq, Somalia, as well as Egypt, Haiti, and Iran. 
 
Hall is the author of the book entitled, "Inside ISIS, The Brutal Rise of a Terrorist Army," published by Center Street of Hachette Book Group in 2015. He studied at Duke University and received a B.A. from Richmond American University in London as well as a post graduate diploma in television journalism from the University of the Arts London. Hall is a citizen of both the United States and the United Kingdom.