OperationGeneral Gustave F. Perna was confirmed as Chief Operating Officer for Project Warp Speed, 2 July 2020. In this position, he co-leads the partnership to accelerate the development, manufacturing and distribution of COVID-19 vaccines and therapeutics.
In his previous assignment, General Perna served as the 19th Commander of U.S. Army Materiel Command (AMC), one of the Army's largest commands with 190,000 military, civilian and contractor employees, responsible for installation, logistics, sustainment and materiel readiness.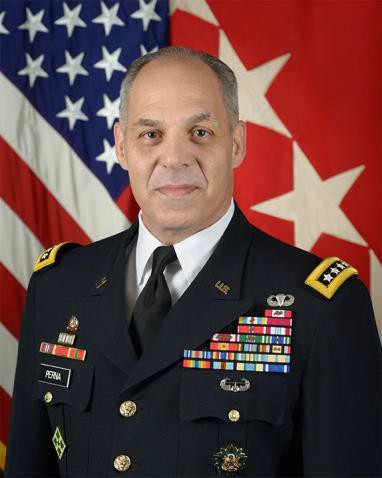 The General's other command assignments include: Commander, Joint Munitions Command and Joint Munitions and Lethality Lifecycle Management Command, responsible for the lifecycle management of conventional ammunition; Commander, Defense Supply Center Philadelphia, Defense Logistics Agency, responsible for the procurement of food, clothing, textiles, medicines, medical supplies, construction and equipment items for America's Warfighters and other customers worldwide; Commander, 4th Sustainment Brigade, where he deployed the brigade to combat operations during OIF 05-07; Commander, 64th Forward Support Battalion,3rd Brigade, 4th Infantry Division, Fort Carson, Colorado, where he deployed the battalion to combat operations during OIF I; Deputy Commanding Officer, 64th Corps Support Group, 13th Corps Support Command, Fort Hood, Texas; and Commander, B Company, 143rd Ordnance Battalion, Aberdeen Proving Ground, Maryland.
General Perna's key staff assignments include: Deputy Chief of Staff, G-4, U.S. Army, overseeing policies and procedures used by all Army logisticians; Deputy Chief of Staff, G-3/4, AMC; Director of Logistics, J4, U.S. Forces-Iraq, responsible for sustainment plans and policies for strategic and operational logistics to sustain coalition and joint forces; Executive Officer to the Director of the Defense Logistics Agency, supporting the Director's mission of providing Army, Navy, Air Force, Marine Corps and other federal agencies with logistics, acquisitions and technical services support; Ordnance Branch Chief, Human Resources Command; DISCOM Executive Officer and G4, 1st Cavalry Division, where he deployed to Bosnia; 544th Maintenance Battalion Support Operations Officer and Battalion Executive Officer, 13th COSCOM; and G4 Maintenance Officer, 13th COSCOM, where he deployed to Somalia as a member of Joint Task Force Support Command.
He graduated from Valley Forge Military Academy with an Associate's degree in Business Administration. Graduating as a Distinguished Military Graduate, he was commissioned as a Second Lieutenant, Infantry Officer. He earned a Bachelor's degree in Business Management from the University of Maryland and a Master's degree in Logistics Management from Florida Institute of Technology.
His military education includes: Infantry Officer Basic Course, Ordnance Officer Advance Course, Logistics Executive Development Course, Support Operations Course, Command and General Staff College and Senior Service College.
His awards and decorations include: Distinguished Service Medal with three Oak Leaf Clusters, Defense Superior Service Medal with Oak Leaf Cluster, Legion of Merit, Bronze Star Medal with Oak Leaf Cluster, Defense Meritorious Service Medal, Meritorious Service Medal with four Oak Leaf Clusters, and the Parachutist and Air Assault Badges.