October 14, 2021
There are 2.1 million people living with limb loss in the USA, and that number is expected to double by 2050. Each year, 185,000 people have an amputation due to trauma, debilitating accidents, vascular disease, diabetes, and cancer. CAPT Jonathan Forsberg, M.D., Ph.D., is leading a new study to investigate the use of next-generation osseointegrated devices that could help these individuals. These innovative implants use neuromuscular interfaces to connect bone, nerve, and muscles to robotic prostheses. The study, funded by the U.S. Navy Wounded, Ill and Injured Program, is being administered by the Uniformed Services University of the Health Sciences (USU) and The Henry M. Jackson Foundation for the Advancement of Military Medicine, Inc. (HJF).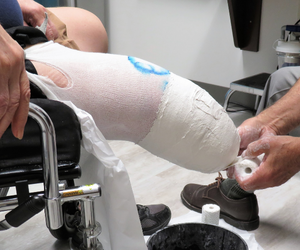 The use of these new technologies presents myriad new challenges, which this study hopes to solve. Among them are developing guiding principles for surgical techniques, implant site infection prevention, and clinical management with these new technologies. The generated data will be publicly available to improve knowledge about osseointegration and enhance these patients' quality of life. 
"A direct-connection between a prosthetic device and the bone can eliminate the need for sockets, and improve mobility and functionality," said Michael Wiley, an HJF program manager and administrative director for the study. "By using osseointegrated prosthetics, these amputees are able to gain greater functional independence, which translates to a marked improvement in quality of life."
The Department of Defense Osseointegration Program began in 2015 with the goal of advancing the field of osseointegration as a capability within the Military Health System. Since its inception, collaborative efforts between the DoD and other entities have brought osseointegration beyond military medicine into the civilian sector. The advances in this field often mean the difference between wheelchair dependence and independent mobility. 
About HJF
The Henry M. Jackson Foundation for the Advancement of Military Medicine, Inc. (HJF) is a global nonprofit that administers more than $500 million in medical research funds annually. For more than 35 years, HJF has partnered with researchers and clinicians to provide bench to bedside to battlefield research support. More than 3,000 HJF teammates ensure HJF is a trusted and responsive partner by providing scientific, administrative, and program operations services to researchers in the military, academia, and private industry. For more information, visit hjf.org.