August 5, 2020
JOINT BASE SAN ANTONIO-FORT SAM HOUSTON, Texas—The Henry M. Jackson Foundation for the Advancement of Military Medicine, Inc. (HJF) is proud to congratulate Lauren Brousseau for receiving the Milton S. Thompson, MD, Award for Most Outstanding Research in the Field of Neuromusculoskeletal Rehabilitation. She received the award on June 25, 2020 at the at the San Antonio Military Health Systems Department of Orthopedics' 22nd Annual Colonel George E. Omer, Jr., Research Symposium at La Cantera Resort in San Antonio Texas.
The award is given to an outstanding researcher conducting substantial work towards improving treatment outcomes of neuromusculoskeletal injury.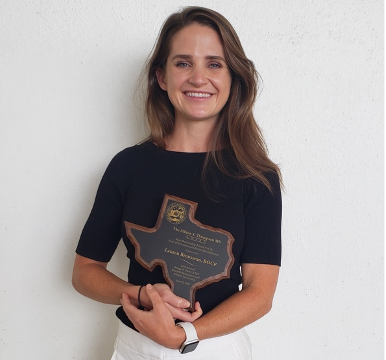 "It is a wonderful feeling to be recognized by a community that I respect and in a field which I am passionate about," said Brousseau. She has been with HJF since August 2019 and conducts prosthetics research to benefit warfighters and Veterans alike.
"HJF's teammates are dedicated to improving the lives of our nation's warfighters," said HJF President and CEO Dr. Joseph Caravalho. "Ms. Brousseau exemplifies this dedication through her prosthetic care research, and HJF is honored and proud to have her on our team."
Brousseau's award-winning study evaluates the predictive validity of in-lab test-driving of prosthetic feet. The research goal is to improve long-term functional outcomes among lower limb amputees by optimizing the process of prescribing prosthetic feet. Defining the mechanisms behind foot preference will enhance this process, leading to increased satisfaction and a better quality of life for both Veteran and Service Member amputees.  The ongoing study is being conducted by the DoD/VA Extremity Trauma and Amputation Center of Excellence at the Center for the Intrepid at Brooke Army Medical Center in San Antonio, Texas, led by Dr. Morgenroth at the Seattle VA, and in collaboration with researchers at the Minneapolis VA, the University of Washington, and Humotech.