January 3, 2022
Annabel Lee Raboy, MSW, received the Best Poster Presentation award during the inaugural Defense Intrepid Network Research Symposium. Raboy is a Clinical Research Coordinator at The Henry M. Jackson Foundation for the Advancement of Military Medicine, Inc. (HJF) working within the Center for Neuroscience and Regenerative Medicine (CNRM) at the Uniformed Services University of the Health Sciences. Her presentation detailed a randomized, placebo-controlled, multi-site clinical trial testing a Calcitonin Gene-Related Peptide (CGRP) antagonist for acute treatment of post-traumatic headaches.
Raboy was among two dozen presenters who detailed recent or ongoing research efforts seeking to mitigate the effects of traumatic brain injury. The clinical trial she is coordinating is a first for CNRM and represents an expansion of CNRM's clinical research. Previously, clinical trials administered by CNRM were focused on the Washington, D.C. area.
"Trials of this complexity and size are rare within the military-related traumatic brain injury research landscape," said Raboy. "These trials require a tremendous amount of effort and support. I am proud to accept this award because it affirms that these trials are critical to benefiting service members who may experience a traumatic brain injury."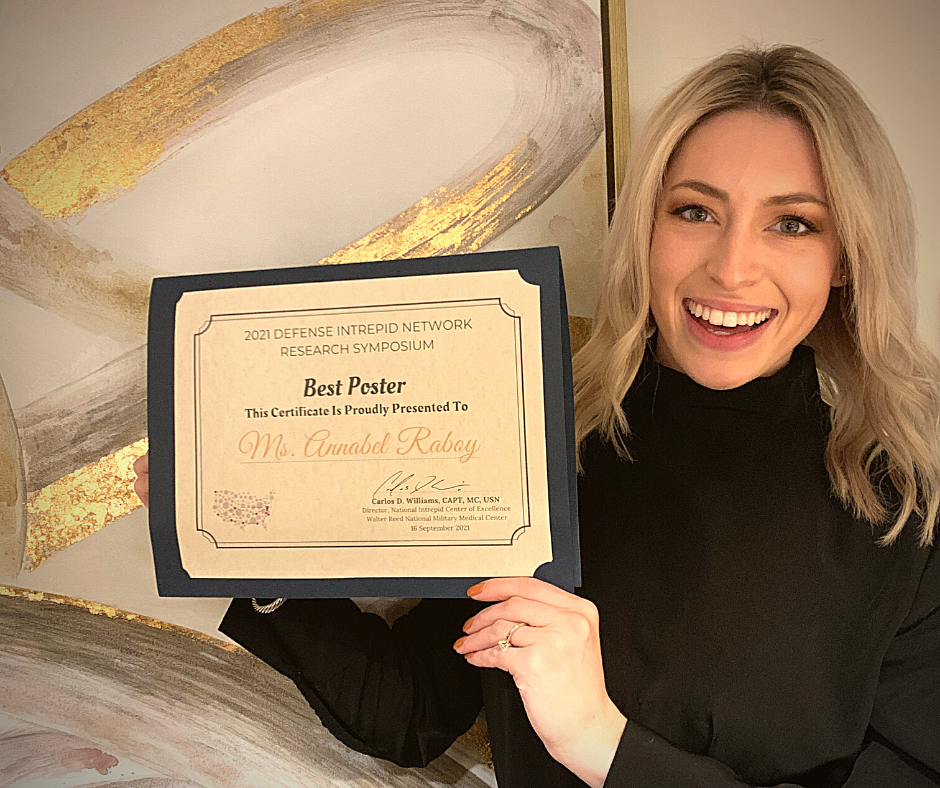 This trial showcases the innovative and impactful research led by CNRM and its mission to support the U.S. Armed Forces. "This award was particularly special because it represents support and recognition from our peers in the military and research community," said Raboy.
The 2021 Defense Intrepid Network Symposium took place on September 16, 2021 at the National Intrepid Center of Excellence (NICoE). More than a hundred clinicians, researchers, and policymakers attended the symposium to engage on the issue of traumatic brain injury.
CNRM is a U.S. military traumatic brain injury research program that's organized as a partnership between the USU and the National Institutes of Health. CNRM is administered through a cooperative agreement between USU and HJF. CNRM conducts cutting-edge science—with an emphasis on clinical trials—that studies military-related TBI and its comorbidities. With 23 active research protocols performed at 11 sites throughout the U.S., CNRM works tirelessly to minimize the negative impact TBI has on our Nation's Armed Forces. For more information, please visit https://cnrm.usuhs.edu/.
About HJF
The Henry M. Jackson Foundation for the Advancement of Military Medicine, Inc. (HJF) is a global nonprofit that administers more than $500 million in medical research funds annually. HJF partners with researchers and clinicians to provide bench to bedside to battlefield research support. More than 3,000 HJF teammates ensure HJF is a trusted and responsive partner by providing scientific, administrative, and program operations services to researchers in the military, academia, and private industry. For more information, visit hjf.org.